Blackfriars Railway Bridge
Modes
Owner

Network Rail
Completed

1864 / 1886
Designer

Sir John Wolfe Barry / Henry Marc Brunel
Originally two bridges, opened in 1864 and 1886, only the piers of the earlier bridge remain. The surviving bridge was designed by Sir John Wolfe-Barry and Henry Marc Brunel and is made of wrought iron. In 2014, it became the world's largest solar powered bridge, with 4,400 photovoltaic panels providing up to half the energy for Blackfriars station.
The name Blackfriars comes from 'Black Freres' (from the French 'frère' meaning 'brother') and refers to the black cappa (or cloaks) worn by Dominican Friars who settled here in 1276. A Dominican Monastery originally stood on the North bank of the bridge.
In the winter of 1814, the Thames froze over so thoroughly in this area that an elephant was led across the river over the ice during the frost fair. This was the last year a frost fair was held on the Thames. With the climate growing steadily milder, the opening of a new London Bridge in 1831 with wider arches encouraging the tide to flow more freely, and the 19th century Thames embankments, the river became much less likely to freeze over.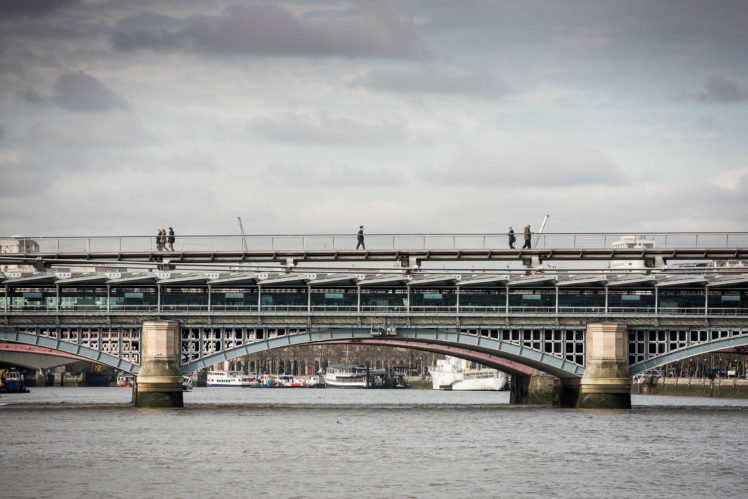 Artist's Vision
The Illuminated River artwork for Blackfriars Railway Bridge will create a unified tableau with Blackfriars Bridge, with the unlit red pillar supports of the demolished original bridge remaining as unlit ghosts between the two.