Illuminated River Walking Tours: The Final Five Bridges
Date
11 November 2022 — 31 March 2023
Location
Blackfriars Station (Northside) inside the glass-fronted underground ticketing hall.
Blackfriars Station, 179 Queen Victoria Street, London, EC4V 4DY
More information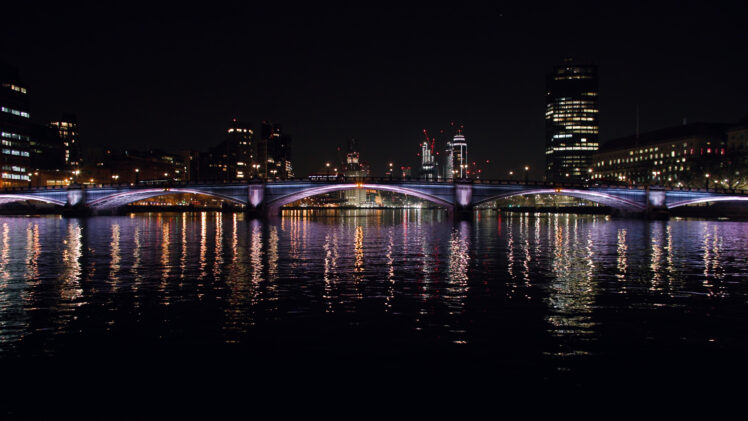 The first four Illuminated River bridges – London, Cannon Street, Southwark and Millennium – made their debut in 2019. Since their launch the four bridges have been creating an evocative display every evening from dusk until 2.00am.
In 2021 five more bridges joined in: Blackfriars Road, Waterloo, Golden Jubilee, Westminster and Lambeth
Making the world's longest public art commission. Although a public artwork, it has been paid for by private, philanthropic sources - an incredible gift to London.
New York-based artist Leo Villareal's subtle display of slowly moving light sequences forms his vision to create a unified series of evocative lighting sequences across the bridges, reflecting their cultural and historical contexts.
Along the walk your Guide will tell you about the artwork and the engineering involved in the project along with the stories of the bridges along the way. The Guides leading these walks are accredited by the 'Two Cities' of London and Westminster as these illuminated bridges cross the boundary! You will meet us to start the walk in the City of London and we'll end in the City of Westminster.
We try to make our walks as inclusive and accessible as possible and use lifts to access the riverside path, but please be aware this walk is after dark and some surfaces are uneven.
Safety:
The safety of our guests and Guides is paramount and group numbers are limited to help with this.
Our walks are outside but you will in a group with people you don't know and you are very welcome to wear a face covering if you wish.
If, on the day, you feel at all unwell please cancel your place
Full information about the meeting place will be sent to everyone who books a ticket.
For more information about us and our other guided tours including the first four Illuminated River bridges, please see www.cityoflondonguides.com/
Tickets are £12 and £10 concession rate for each tour.
Buy tickets here: https://www.eventbrite.co.uk/e...