Reflections: Illuminated flotilla in partnership with Totally Thames
Date
24 September 2022, 19:00
Location
Westminster
Chelsea Bridge to Tower Bridge
More information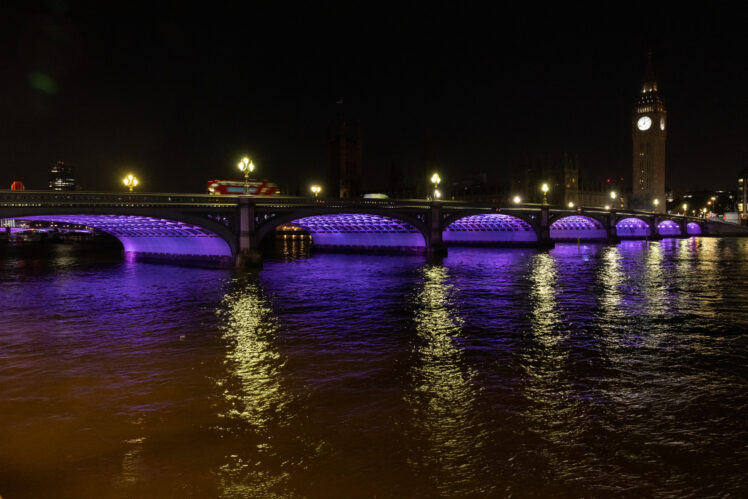 Illuminated River will be lit in a celebratory sequence of majestically evolving light and colour as part of Totally Thames' one night only event, Reflections, on Saturday 24 September 2022.
With gracious permission from bridge owners, the specially programmed display by Illuminated River artist, Leo Villareal, will celebrate Her Majesty The Queen's Platinum Jubilee for a second time, accompanying an illuminated flotilla along the River Thames organised by Thames Festival Trust. Comprised of 150 boats adorned with glistening white lights, the procession will travel at dusk from Chelsea to Tower Bridge, creating a ribbon of light reflected across the water.
Illuminated River's main colour scheme will be threaded with tones of platinum and purple in a synchronized flow of subtly moving LED lights across nine central London Thames bridges, from Lambeth to London Bridge. The display will be unveiled at sunset on Saturday 24 September and will run until 2am on Sunday 25 September.
The Reflections flotilla will include Gloriana, the Queen's Rowbarge, which was made for Her Majesty's Diamond Jubilee; and all participating crews are raising funds for the RNLI, to support the construction of a new lifeboat station at Waterloo Bridge.
The event is free to attend.
Adrian Evans LVO, Pageant Master and Director of Totally Thames Festival, says:
"The river was centre stage for Her Majesty's Diamond Jubilee. Ten years on, the Thames joins her Platinum Jubilee celebrations in magnificent style with a sumptuous, illuminated flotilla and its bridges given gorgeous bespoke lighting specially for this historic occasion."
Jayne George, Director of Fundraising, Media and Marketing at the RNLI, says:
"We are so grateful that Reflections has chosen to fundraise for the new Tower Lifeboat Station. The crew there respond to around 600 calls for help on the Thames each year. The building no longer meets our operational needs, but our new floating lifeboat station at Tower will provide much improved facilities for our casualties and crews and will help us save many lives in the heart of the capital for decades to come."

Please find more information about the Reflections flotilla here