Totally Thames and Secret Adventures Presesnt: Night Kayak Accross London
| | |
| --- | --- |
| Date | 18 September 2019, 18:30 |
| Location | The beach by St. Mary's Battersea, SW11 3LX |
| | More information |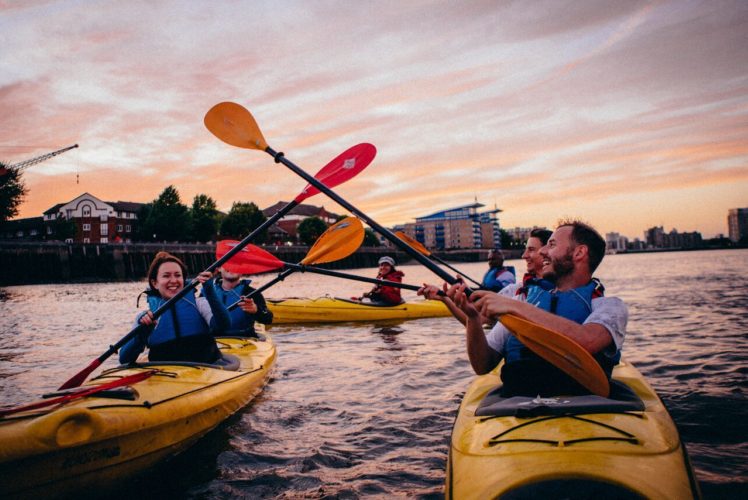 As the light starts to fade, join Totally Thames and Secret Adventures for an evening paddle right through the centre of London. Seeing all of London's landmarks brightly bathed in light; Houses of Parliament, St Paul's, Bank Side, The City. the Old Naval College and the newly illuminated Thames bridges.
This adventure starts on the beach by St Mary's Church in Battersea at 6.30 PM and finishes in Greenwich at 9.30 PM. It is planned to coincide with the falling tide, making the trip suitable for all abilities. We use stable double kayaks with rudders - all kit provided and staffed by professional guides. The event is for adults only.
The trip will finish at Greenwich next to the Old Naval College, a 10 minutes walk to DLR station. The adventure will take around 3 hours, this includes kitting out and safety talks before going out on the water.
This event is part of Totally Thames which runs from 1 - 30 September
What's included?
- Buoyancy aids
- Paddles
- Lights when required
- Waterproofs (jacket and trousers)
- Waterproof gloves
- Professional instructors
What happens to my stuff?
All your belongings are taken with you in the Kayaks. You'll be provided with waterproof bags to put belongings in a small cabin in the kayak. Please try to avoid bringing things like laptops etc as there's always a risk of these getting damaged.
What to wear?
Try to arrive in the clothes you want to wear on the water as we have limited changing facilities and this will save time. We suggest comfortable clothes to paddle in, dress for the weather including a pair of trainers you don't mind getting muddy. We supply all equipment including good quality waterproofs. Also, bring a complete warm change of clothes that you can stow in waterproof bags in your kayaks in case you get damp along the way.