Platinum Jubilee display: a unique light sequence from artist Leo Villareal
| | |
| --- | --- |
| Date | 2 June 2022 — 6 June 2022 |
| Location | London to Lambeth Bridges |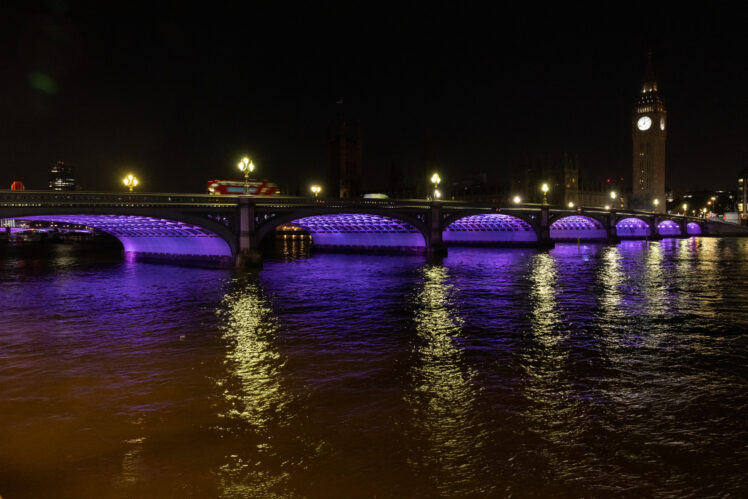 Illuminated River to honour Her Majesty The Queen's Platinum Jubilee in unique light sequence from artist Leo Villareal

For four nights over the Platinum Jubilee Bank Holiday weekend, Illuminated River will be lit in a celebratory sequence of majestically evolving colour and light. The special edition of the artwork will be unveiled at sunset on Thursday 2 June and will run each night until 2.00am on Monday 6 June.
Nine central London Thames bridges, from Lambeth Bridge to London Bridge, will be choreographed in the synchronised flow of subtly moving LED lights with tones of platinum and purple threaded within the main colour scheme.
Illuminated River artist Leo Villareal has been specially commissioned by the Illuminated River Foundation, with gracious permission from the bridge owners, to programme this event, which will weave gently undulating patterns of light and colour across the historic Thames bridge structures, in coordination with lighting of other major landmarks on the river.
Lord Mendoza, Chair of the Illuminated River Foundation's Board of Trustees, says:
"Illuminated River is delighted to be contributing to the nation's celebrations of Her Majesty The Queen's Platinum Jubilee in the form of a unique lighting event along the Thames in central London. We hope that as many people as possible – Londoners, visitors and newcomers to the city alike, will enjoy Leo Villareal's display as part of a memorable weekend of celebrations marking seven decades of Her Majesty's reign".
Leo Villareal, artist of Illuminated River, says:
"It is a privilege to create this special edition of Illuminated River to honour Her Majesty The Queen's Platinum Jubilee. The hallmark colours of the Jubilee, purple and platinum, will augment the artwork across its nine bridges over the Thames, lighting up the river and its surroundings with a momentous spectacle that people celebrating across the UK can enjoy. It's very exciting to activate so many of London's important bridges for this unique and special moment."