A summer of light, music and art with Illuminated River
The Illuminated River Foundation announces free, immersive and on demand ways to engage with the world's longest public artwork this summer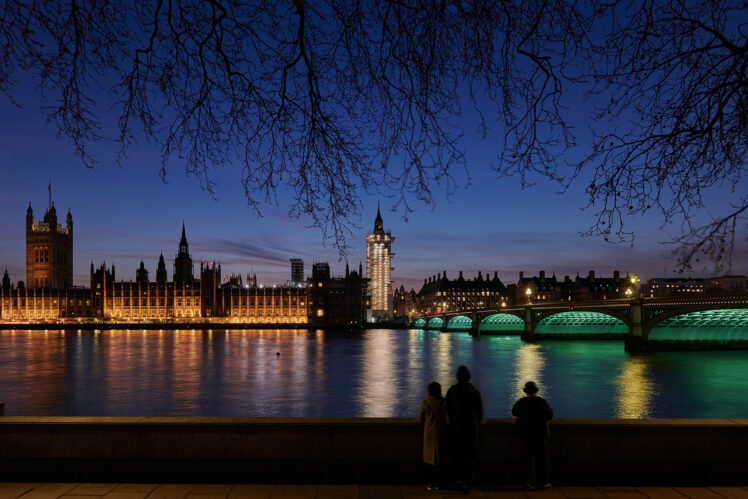 Illuminated River is a unique public art project that encourages Londoners and visitors to reconnect with the Thames and its bridges. The latest additions to a Summer 2021 engagement programme combine participation in art and culture with the wellbeing benefits of walking and spending time outdoors.
Open air and free to view, artist Leo Villareal's subtly moving sequences of LED lights now illuminate nine of the Thames bridges in central London. Drawing inspiration from the spirit of the river, the heritage of its bridges and the movement of the city, the Illuminated River artwork is on display every evening from sunset until 2.00am.
This long-term art installation was unveiled in full in Spring 2021, with Lambeth, Westminster, Golden Jubilee, Waterloo and Blackfriars Road Bridges joining Millennium, Southwark, Cannon Street and London Bridges, which were illuminated in July 2019. The total length of the artwork when measured across both sides of each bridge is now 3.2 miles.
New ways for everyone to explore the artwork include a night art trail specially curated around the South Bank, musical interpretations from rising young composers at the Guildhall School of Music & Drama and a second phase of audio-described guides that weave spoken accounts of the artwork with music and historical tales of the river.

For those unable to get down to the Thames this summer, or to visit after sunset, the programme offers many options for online engagement with the illuminated bridges, including comprehensive coverage of all nine bridges via a dedicated Google Arts & Culture digital exhibition. The exhibit features 360o visuals, interviews with the artist and background on bridge history and artistic vision, with newly commissioned photography of the recently illuminated bridges available shortly.
Director of the Illuminated River Foundation, Sarah Gaventa, comments on the summer engagement programme:
"Illuminated River is for everybody. Our aim is to enable as many people as possible to engage with the artwork this summer and in the years to come, whether in person, digitally or in hybrid ways. Through the artwork we want people to rediscover the beauty of London's bridges, and the river Thames that flows beneath them".
Illuminated Art Trail
An art route with a focus on creative lighting has been newly curated by South Bank Business Improvement District (BID) in homage to the artwork. The Illuminated Art Trail centres around vantage points of the five most recently lit bridges in Leo Villareal's artwork (Blackfriars Road, Waterloo, Golden Jubilee, Westminster and Lambeth) while drawing attention to 11 other lightworks and public art projects in the vicinity.
Contemporary art featured in the trail includes Idris Khan's 65,000 Photographs (2019), an eight-metre-tall sculpture representing every image taken by the artist on his phone over five years and Simon Conder's 17-metre-high light installation Bough One (2018). Architectural lighting includes the illumination of Thames-side icons such as Denys Lasdun's National Theatre and the colourful pyramid skylights of the Hayward Gallery, both alongside Waterloo Bridge. Further focal points of the after-dusk trail include the Leake Street Graffiti Art Tunnel – an outdoor gallery in its own right just east of Westminster Bridge.
The historic sturgeon lamp standards sculpted in 1870 by George John Vulliamy are part of the trail, with their orbs of light that have become a defining feature of London's Thames Embankments. Included too is the glowing mid-century treasure of the National Film Theatre sign on Waterloo Bridge by Queen Elizabeth Hall architect Norman Engleback.
A downloadable map of the South Bank gives the option of starting the art trail from either Lambeth or Blackfriars Bridges, with an accompanying online guide providing fun and informative background on Leo Villareal's vision and other creative illuminated projects along the route.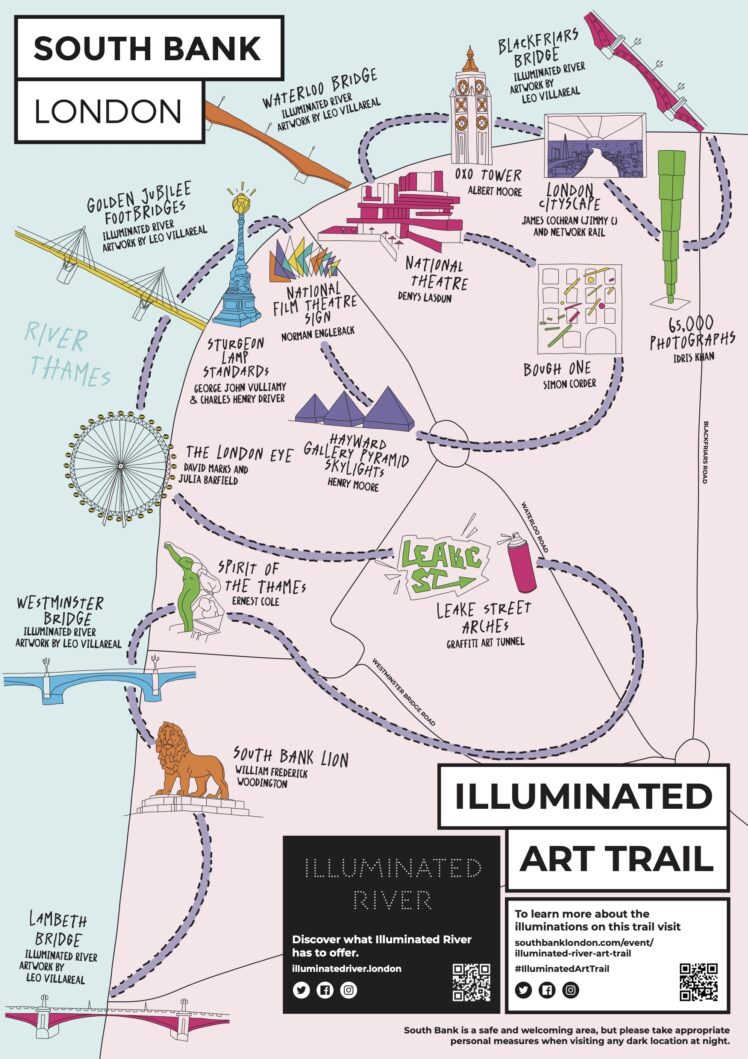 Celebrating Illuminated River in music
A diverse musical collection of 40 tracks celebrating the five new bridges in the Illuminated River artwork is now available to download for free on Soundcloud.
The new phase of music inspired by Leo Villareal's artwork is the result of a unique creative collaboration between the Illuminated River Foundation and the Guildhall School of Music & Drama.
From Skye Platts' drum and bass influenced Waterloo Bridge to Jasmine Meaden's uplifting orchestral interpretation Westminster, the musical works from young composers encompass a wide range of genres from piano solo to ambient electronica.
The series includes Gwen Howard's Golden, a response to the Golden Jubilee Footbridges. Conceived as an accompaniment to a slow and stately walking meditation, her use of electronics in the piece is an allusion to the contemporary architecture of the suspension cable pedestrian walkways added to Hungerford Bridge by architects Lifschutz Davidson Sandilands in 2002.
In contrast Nicolò Schnur's Waves of Light is a rousing celebration of history being brought to life by Leo Villareal's contemporary artwork for the Grade II* listed Westminster Bridge. String movements in the work represent the pulses of light that now gently wash the Gothic detailing of the 1862 bridge, which echoes the architecture of the adjacent Palace of Westminster.

The Guildhall tracks offer a new way of engaging with the artwork and the heritage of London's Thames bridges from any location. For an immersive musical experience in situ, the bridge-by- bridge soundtrack is designed to accompany Illuminated River's walking route of the artwork – an alternative, or supplement to, audio tours created in collaboration with City of London Guides.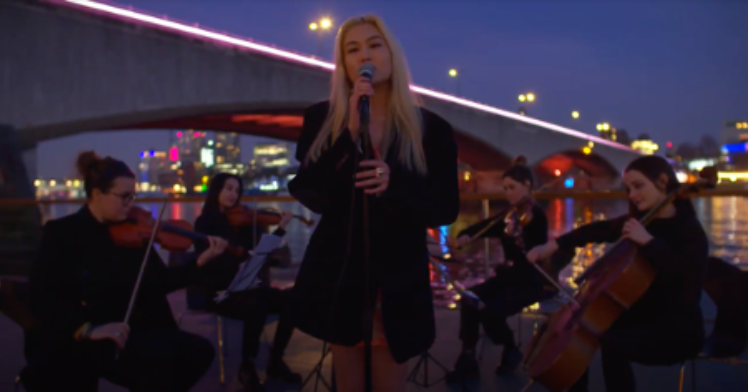 Audio-descriptive guides to Illuminated River
New audio-descriptive guides to the recently launched bridges bring Illuminated River vividly to life for everyone with beautifully evocative descriptions of Leo Villareal's artwork. A complete set of guides covering the full nine-bridge artwork is now freely available on Soundcloud.
The series was developed in collaboration with VocalEyes, the charity that brings theatre, museums, galleries and heritage sites to life for blind and visually impaired people. The guides interweave descriptions of the artworks and bridges with cultural, historical and social references as well as music from the Guildhall composers to evoke the atmosphere of each piece.
The immersive narrative is divided into bridge-by-bridge chapters, each around 6 minutes long. Immediately transporting listeners to the Thames, the tracks can be accessed from anywhere in any order – or they can be downloaded or streamed to a phone for in-situ engagement.
Coming up – Totally Thames Festival
From 23–25 September 2021, to mark the successful completion of the artwork, Illuminated River is curating a three-day celebration for all as part of this year's Totally Thames Festival. A specially created programme of activities for the Festival includes guided tours, talks, sketching workshops and more.
On Thursday 23 September 2021, artist Leo Villareal will re-programme the artwork in a one-off event, enhancing his algorithmic lighting of the nine bridges of Illuminated River in a special display exclusively for the Festival.
Listings
Microsoft Word - Press Release_Illuminated River Engagement Programme II_v3. ED- CLEAN GB.docx
To view Illuminated River on Google Arts & Culture visit: https://artsandculture.google....

Download the Illuminated Art Trail map here: https://www.dropbox.com/s/aafhzete4cr8fj8/Illuminated%20Art%20Trail%20- %20South%20Bank%20BID.jpg?dl=0

For information on the artworks in the Illuminated Art Trail visit: https://southbanklondon.com/Il...

Listen to the Illuminated River Guildhall School of Music & Drama compositions on Soundcloud: https://soundcloud.com/user-49...

Watch students from the Guildhall School of Music & Drama perform original scores inspired by Illuminated River:https://www.youtube.com/watch?...

Download Illuminated River's walking route of the full artwork here: https://illuminatedriver.london/assets/site/10696-IlluminatedRiver-Walking-Route-Map- AW.pdf

Engage with Illuminated River's audio-descriptive guides from VocalEyes here: https://soundcloud.com/user-49...