New engagement programme launched as the Illuminated River artwork is revealed
The programme, which will evolve throughout 2021, aims to support the Illuminated River artwork, following its completion across five more Thames bridges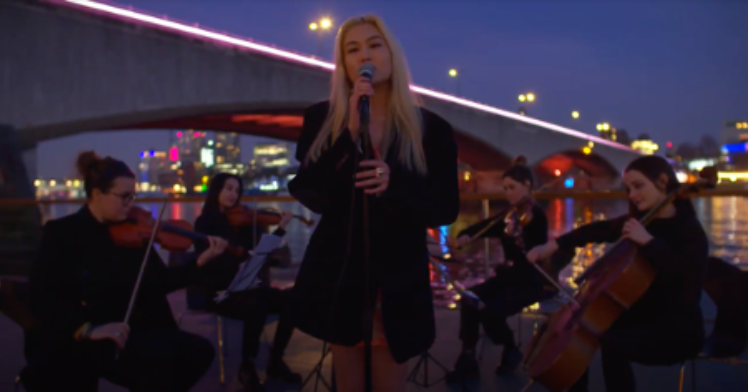 14 April 2021 - The Illuminated River Foundation has launched a new and exciting programme of engagement activities to mark the completion of its nine-bridge artwork, which was launched in full yesterday (Tuesday 13 April 2021). Featuring a mix of on-site and digital activities, with free and bookable options, the programme includes interactive art trails and informative guided walking tours, and a new phase of musical collaboration with students from the Guildhall School of Music & Drama.
Illuminated River reframes the Thames at night, offering an immersive cultural experience that is open air, free to view and accessible to all every evening from dusk until 2.00am. Spanning from London to Lambeth Bridges, the artwork was created by internationally acclaimed artist Leo Villareal with award-winning British architectural practice Lifschutz Davidson Sandilands. Up to 90 million people a year will see Illuminated River in situ over its minimum lifespan of ten years. Blackfriars Road, Waterloo, Golden Jubilee, Westminster and Lambeth Bridges have now joined London, Cannon Street, Southwark and Millennium Bridges, which were illuminated in July 2019.

New music for all
The Illuminated River Foundation has commissioned new music uniquely inspired by the artwork, the Thames and its bridges from students at the Guildhall School of Music & Drama. In this second iteration of the collaboration, dozens of original music compositions, each focusing on a specific bridge, have been created to celebrate the artwork as well as the social history behind the structures. They will be shared in a series of releases over the coming weeks.
The arrangement 'Still We Move' by Lillian Chan, for example, explores the under-recognised contribution of the largely female workforce responsible for completing Waterloo Bridge (also known as 'The Ladies Bridge') during WWII. Alluding to the sentiment in Maya Angelou's 1978 poem 'Still I Rise', Chan's commission layers female vocals with strings to emphasise a message of solidarity among women.
Offering the option of enhancing engagement with the artwork, the bridge-by-bridge soundtrack is free to access on Soundcloud, encouraging visitors to walk the route of the Illuminated River for an immersive experience of the full artwork.
Listen to the Illuminated River Soundcloud: https://soundcloud.com/user-49724533/sets
Watch students from the Guildhall School of Music & Drama perform original scores inspired by Illuminated River: https://www.youtube.com/watch?v=5QoHSFvmZLE
Free self-guided audio tours

Free audio guides created with City of London Guides delve deep into the rich histories behind the bridges, highlighting key sites of interest along the north and south banks of the river and elucidating Leo Villareal's artistic vision. The commentaries explore the fascinating history of the Thames – from swan upping to frost fairs – with the full nine-bridge walk taking up to two hours. Visitors can also devise their own mini routes making use of audio stops and a downloadable map.
Also available to download for free are descriptive audio guides made in collaboration with VocalEyes – a charity supporting blind and partially sighted people to enjoy arts and heritage experiences. A second group of audio guides is being prepared for the additional five bridges, offering sight-impaired visitors an alternative method of engaging with Illuminated River, and augmenting the experience for everyone. The VocalEyes tracks will evoke the atmosphere of the artwork, interweaving descriptions of each bridge with rich stories of social histories, architecture and engineering feats.
Audio descriptions of the first four bridges can be downloaded for free via Soundcloud, the final five bridges will be released in summer 2021:
Downloadable fact packs for adults and children

Informative and educational resources available online for viewers of all ages include a historical fact pact with a fun and informative quiz to accompany people on their visit to Illuminated River. In addition, a downloadable 'kids pack' offers plenty of things to see and do for younger audiences. Activities can be done either from home or on site, engaging children with the light artwork and the historical context of the Thames while offering colouring-in opportunities, quick facts and things to look out for at different points along the river – from the 'pineapples' of Lambeth Bridge to the 'chewing gum' drawings on the deck of Millennium Bridge.
Download now: https://illuminatedriver.london/discover/explore
Guided tours and events
A calendar of guided tours of the Illuminated River artwork is planned throughout the Spring and Summer months, with some events reserved especially for key workers. Free tours of the artwork from Blackfriars to Lambeth Bridges led by City of London and Westminster guides start on 20 April and are now bookable online. The 90-minute tours with a maximum group size of six take place on Tuesdays and comprise a gentle evening stroll along the river accompanied by an informative professional guide. An alternative programme of tours from London to Millennium Bridges on Friday evenings, led by Official Guides to the City of London, starts on 23 April and is also available to book online (prices start from £8).
Book now: https://illuminatedriver.london/whatson?start=2021-04-01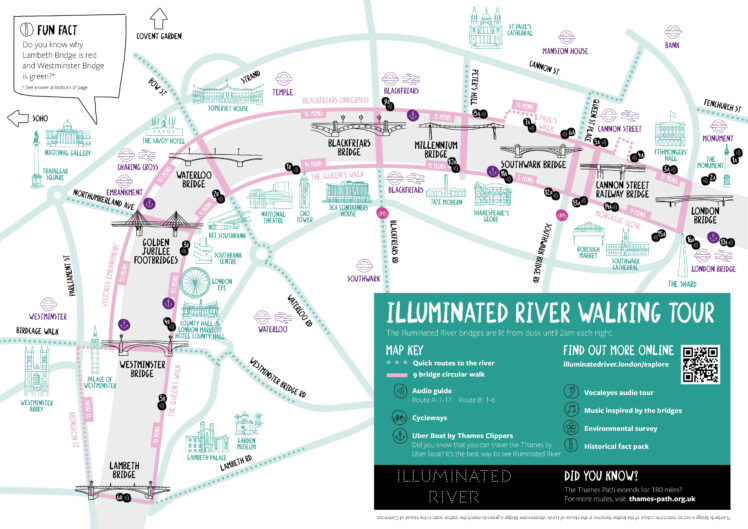 Sarah Gaventa, Director of the Illuminated River Foundation, comments:
"We are delighted to be developing this programme of engagement to celebrate the completion of the next five bridges in the Illuminated River artwork. This launch marks the culmination of five years' work by the Foundation and we're very excited to finally share it with the public. Through various collaborations with some incredible partners, we are offering a stimulating, educational and accessible calendar of activities and resources for all to enjoy."
Over the coming months, Illuminated River's What's On page will be regularly updated with exciting new activities to include boat tours in partnership with Uber Boat by Thames Clippers (restarting from September), talks on different aspects of the project, outdoor sketching, photography competitions, music performances and more. Illuminated River will present a broad range of free and exciting activities as part of Totally Thames Festival in September 2021.
Visit illuminatedriver.london/whatson or follow @IlluminatedRiv on Twitter to receive updates.