Illuminated River launches new apprenticeship with Signify
Minister of State for Apprenticeships and Skills launches new Signify and Illuminated River Project Apprenticeship Programme
The Rt Hon Anne Milton MP, Minister of State for Apprenticeships and Skills, has launched the Illuminated River Project Apprenticeship program with Signify in celebration of the longest public art commission in the world, lighting up the bridges of the river Thames.

The Illuminated River Project Apprenticeship programme with Signify will let the successful apprentice gets hands on with the one of a kind project while earning invaluable qualifications that will help them with their future career. The selected apprentice will split their time studying towards a qualification through Signify's educational partner, the Farnborough College of Technology; supporting work exclusively dedicated to the Illuminated River project; and working across other exciting lighting projects within the Signify UK and Ireland business.
The Rt Hon Anne Milton MP, Minister of State for Apprenticeships and Skills commented:
"I'm thrilled to help launch the Signify and Illuminated River Project Apprenticeship. Apprenticeships offer people of all ages and backgrounds a high-quality route to skilled employment, including the option to gain a degree. Signify is doing fantastic work with its apprentices offering them great support and in return, the apprentices are bringing new inspiration and a superb level of talents to the business." The Minister added: "Apprentices get paid while they train and can start a great career in a huge range of technology industries including cyber security, aerospace engineering and digital marketing. It's great to see more businesses like Signify embracing our new higher quality apprenticeship standards which were designed in partnership with leading businesses to make sure apprentices are learning the skills employers need."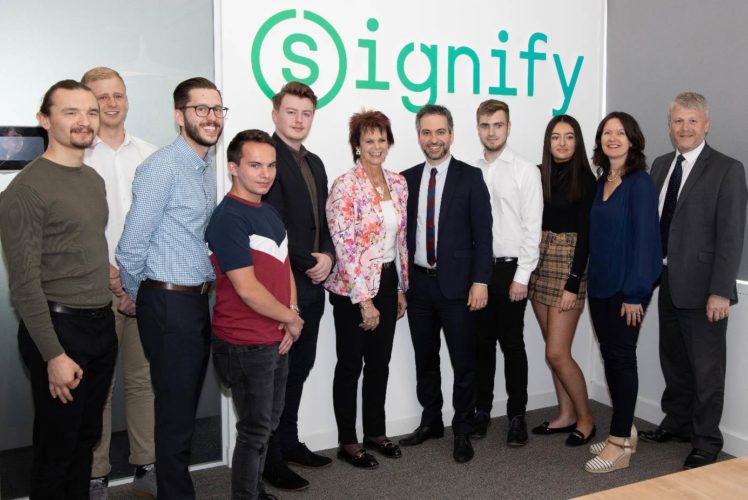 Sarah Gaventa, Director, Illuminated River Foundation, added:

"The Illuminated River project will use connected LED lighting across up to 15 bridges in what will be the world's longest public art commission. This is a great opportunity for an apprentice to experience it first hand and become part of the team creating inspirational artwork seen by 200 million people a year, and which will have a lasting legacy for London."
Joao Pola, CEO, Signify UK and Ireland, said:
"At Signify, formerly Philips Lighting in the UK, we have invested in training over 15 apprentices over a six-year period. This new Signify Illuminated River Project Apprenticeship builds on our existing schemes for those looking to gain strong work experience with a blue chip, global organisation alongside valuable qualifications, helping them learn skills such as graphic and practical design, customer interaction, and technical skills. Also, it gives them the opportunity to work closely on the Illuminated River project – a groundbreaking public and architectural lighting scheme that will transform the River Thames and areas around it."
For those interested in the Signify Illuminated River Project Apprenticeship, please apply by visiting: www.careers.signify.com