Illuminated River Walking Tours in partnership with the Official Guides to the City of London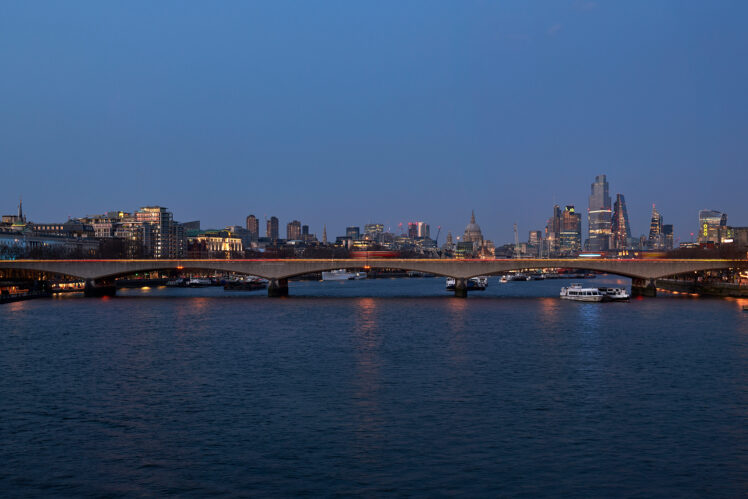 Join the Official Guides to the City of London for a leisurely walk along the Thames and discover what inspired Illuminated River artist Leo Villareal.
The fully trained guides offer a unique insight into the remarkable architecture and heritage of the Thames bridges, focusing on the unique story behind the Illuminated River as the longest public art commission in the world.
Each bridge has a specially designed lighting sequence created by the artist and all together they shine a subtle and beautiful light on the Thames and London and will do so until 2029.
All Guides are fully trained, accredited by the Institute of Tourist Guiding and insured, and regularly lead walks in the City and lecture on City related topics. The walks are made as inclusive and accessible as possible and use lifts to access the riverside path.

Join a walking tour:
The walking tours take place at 18:30 every Tuesday and Friday, ending on 22nd March 2024. Tickets are from £11.55 for each tour.
On Tuesdays, participants are invited on a guided walk that shines a light on the eastern bridges, including Millennium Bridge, Southwark Bridge, Cannon Street Railway Bridge and London Bridge.
Book a Tuesday tour here: https://www.eventbrite.co.uk/e/illuminated-river-shining-a-light-on-the-eastern-bridges-tickets-730305863497
On Fridays, participants can see the final five bridges as part of the artwork, including Blackfriars Road, Waterloo, Golden Jubilee, Westminster and Lambeth.
Book a Friday tour here: https://www.eventbrite.co.uk/e/illuminated-river-the-final-five-bridges-tickets-736459509217

For more information about all the guided tours, please visit www.cityoflondonguides.com/