Bridg­ing Mem­o­ries: Com­mu­ni­ty Con­ver­sa­tions on the Thames
Guest post by Ciron Edwards and Patrick McNamara of Iceni Projects.
As a community engagement team, we joined Illuminated River with a mission to understand what the bridges mean to the people that live with them, to talk to people about the proposed artwork, give the public an opportunity to ask questions, and listen to feedback.
Illuminated River will be the largest public art project in the world, spanning fifteen central London bridges, through seven different boroughs, along a 4.5 mile stretch of the Thames. From the 491,888 people who cross the bridges each day, to those who live or work near them, to those just passing through, the Illuminated River will transform so many people's experiences of the capital… so we had lots to do.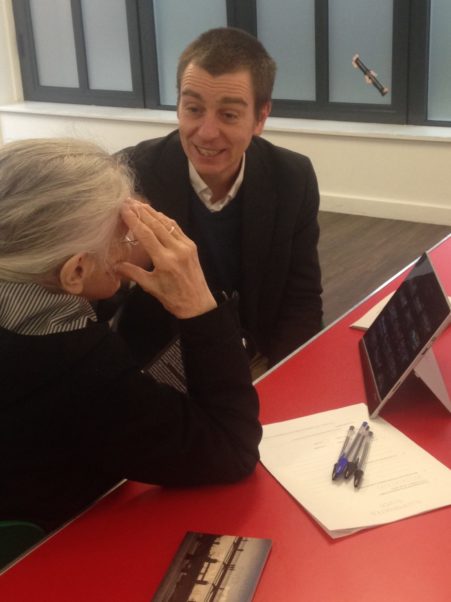 Our first job – to identify our audience – was no small task. The sheer geographical scope of the project presented a unique challenge. We began in the way that made most sense; we went down to the river to start having conversations and mapping things out. What we discovered was an intricate, interweaving web of community pockets. The Watermen, who ferry people up and down the Thames (in the Thames Clippers, for example), many of whom come from a lineage of watermen stretching back to the days when they would row people on the river in wherry boats (water-taxis) before any bridges were built. The Mudlarkers, who scour the river banks for lost treasure and historical artefacts. The London Ramblers, a walking group who champion the Thames Path, and many more residents' groups, historical societies and environmental groups that are active along the length of the Thames.

We felt a bit like the intrepid artist Samuel Leigh, who in 1829 recorded the Thames and details of all its communities in an 18m long fold out watercolour map, beautifully re-presented by the Panorama of the Thames Society (you can spot at least a few pubs and churches that remain the same).
Talking with groups and individuals, it was clear how embedded the bridges have become in Londoners' collective imaginations. In many ways, the bridges are like social and historical markers. Waterloo Bridge, affectionately known as the 'ladies bridge' because it was built by women during the labour shortage of WWII, is one such marker. Chelsea Bridge, built to stimulate trade during the Great Depression, by using materials from all over the former Empire (Timber from British Columbia, Asphalt from Trinidad), and employing local unemployed boys from Battersea, is another.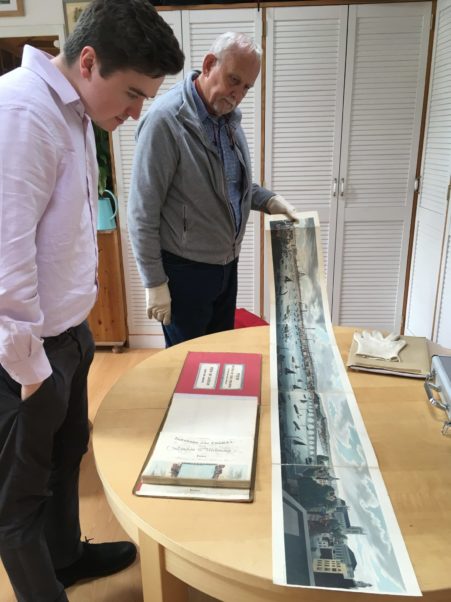 The bridges are also embedded in our personal memories and narratives. Ruby and Doris, aged ninety-five and ninety-six, who we met at the Peabody Estate in Vauxhall (where they have lived since they were born) remember the Canadian Prime Minister opening Chelsea Bridge on 6th May 1937. They also remember playing and climbing on the bridge's spandrels as children, celebrating here as part of wedding parades, not to mention the time the neighbour's dog almost fell in the Thames. We heard countless nice stories like these. Some people bought in photos to show us, ('here I am, pregnant with my two twins on Waterloo Bridge. They're grown-up now'). Wherever we went, people spoke fondly of the bridges and there was a strong sense of personal relationship and emotional attachment felt towards them.
A highlight was spending time with school children who lived near the bridges. We helped put on Frozen In Time (along with Emergency Exit Arts) as part of Southwark Council's annual Blackfriars Stories cultural programme. The children learnt about the history of the Thames and Blackfriars Bridge and, inspired by the stories they heard, created a gigantic mechanical puppet of Old Father Thames, as well as many smaller illuminated artworks to carry on a procession with their families and friends through the streets of Southwark.
The main aspect of our community engagement was a series of 18 public drop-in exhibitions, all along the 4.5 mile stretch of the Thames, where we showed people Villareal's proposed artwork and talked to them about the project. We had a real variety of visitors; from photographers, historians, lighting designers, residents and rough sleepers, to city guides and former Lord Mayors. We held our exhibitions in a variety of places, too, from old fire stations to village halls, and were heartened by the excellent work we witnessed being carried out at local community centres.

The drop-in exhibitions were our opportunity to understand people's concerns and sensitivities towards the project, from the bigger picture right down to the minutia of how lights would be installed and maintained. Our conversations with people were part of an iterative process, with remarks relayed back to Villareal's design team throughout.
From the architecture and history enthusiasts, we learnt the importance of details like Westminster Bridge being green to match the House of Commons benches, (Lambeth Bridge is red to match the Lords), so the lighting design was adapted to subtly bring out the existing colours of each of the painted bridges. We learnt how much people loved Albert Bridge and made sure the lighting design will keep the existing glittering marquee effect. We learnt that very few people even know about Drury and Pomeroy's beautiful statues on Vauxhall Bridge, (currently unlit, the eight statues will be brought to life by Villareal's design). One of these statues, which represents 'Architecture', is carrying a miniature St. Paul's Cathedral in her hands. We also learnt that not many people can recite all fifteen bridges in order. And we learnt how to recite them ourselves, and then backwards, in record time.
As well as gathering an armoury of pub quiz facts, a bonus to working on this project has been learning new things about the river environment. We learnt about fish and benthic invertebrates, from Thompson Ecology. We met David from the London Peregrines at the crack of dawn, who showed us the falcons that nest near Tate Modern. We learnt about marshlands from John and Jill of the Panorama of the Thames Society, who rowed us over to their Garrick's Ait abode in the middle of the river near Hampton Court (not your everyday commute). We also learnt a lot about sustainable energy sources and lighting in the city, and how important it is for people to have the right kind of light in the right places.
The Thames has existed since the birth of this city, and as London's artery it connects us all together, and connects us to our past. The Thames bridges really do tell the story of London, and artist Leo Villareal's illuminations, which will respect and reveal the bridges distinct histories and architecture, are an exciting next chapter in their journey. What was first introduced to us as 'a project to light the bridges' has grown to become so much more. It has been a pleasure to be part of a project to reclaim the bridges as important, historic and beautiful places in the public realm, with artwork free for everyone to enjoy.