Celebrating Illuminated River's First Anniversary
We are celebrating a year of Illuminated River!
The first phase artwork across London, Cannon Street, Southwark and Millennium bridges has been seen over 20 million times since launching a year ago on Thursday 17 July 2019.
We are delighted that the second phase of the next five bridges starts on site today, on the anniversary of the completion of the first phase. The new artwork will be installed on Blackfriars Road Bridge, Waterloo Bridge, the Golden Jubilee Footbridges, Westminster Bridge and Lambeth Bridge and unveiled in Spring 2021.

To mark the occasion, we asked our project supporters, partners and local communities to reflect on the impact of the first phase of Illuminated River and share what the artwork means to them and/or their organisation. Here's what they had to say.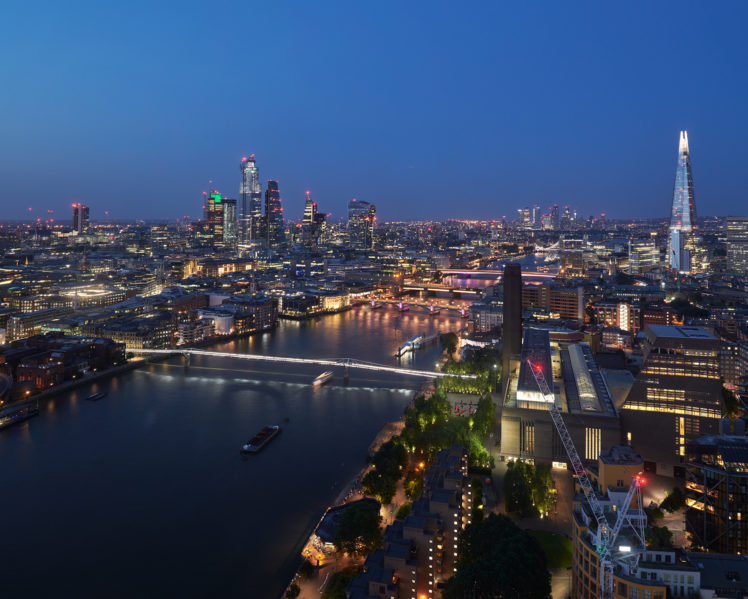 Leo Villareal, Illuminated River Project Artist:
'It was thrilling to reveal phase one of Illuminated River in July 2019 after years of planning and to witness the powerful response the artwork elicits as Londoners begin to see the Thames and its bridges in a new way. The subtle addition of sequenced light to London, Cannon Street, Southwark and Millennium Bridges celebrates community and brings people together. I am humbled and honoured by the Rothschild Foundation's support and am grateful to the talented team assembled by the Illuminated River Foundation that has enabled this ambitious effort to succeed.

Even in these unprecedented times it is inspiring to see the Illuminated River Foundation lead the effort in launching phase two of the project. I am eager to return to London to sequence Blackfriars Road, Waterloo, Golden Jubilee, Westminster and Lambeth Bridges. It will be exciting to add these five bridges to the four that have already been activated. My hope is that this public artwork will change the way people see London's magnificent bridges and reveal the profound beauty of the Thames and its surroundings.'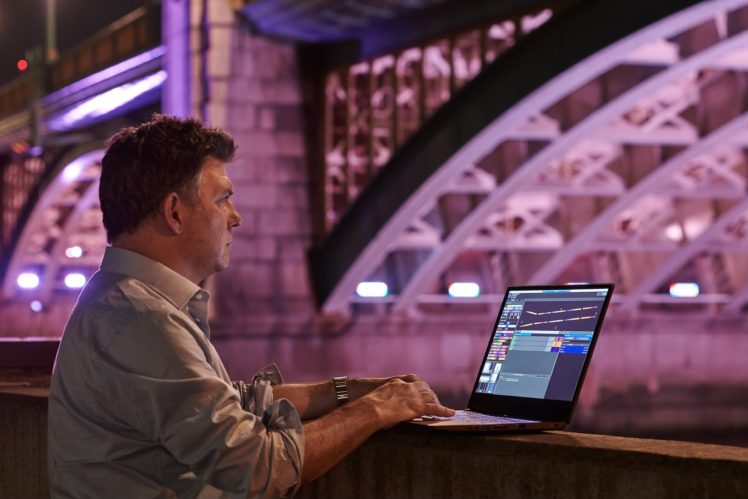 Neil Mendoza, Government Commissioner for Cultural Recovery and Renewal and Chair of the Illuminated River Foundation's Board of Trustees:
'The extraordinary Illuminated River project moves into its second phase with work starting on five central London bridges. This project is a combination of pioneering artistic endeavour and a beautiful, practical lighting contribution to the city's public realm that will endure for many years. Despite the pandemic we remain on budget and on time. The Illuminated River is a gift to London made possible by the generosity of four world-leading charitable foundations – The Rothschild Foundation, Arcadia, Blavatnik Family Foundation and the Reuben Foundation.'
Hannah Rothschild CBE, Illuminated River Foundation's Board of Trustees:
'Leo Villareal has succeeded in transforming the Thames, for too long a snake of darkness running through the heart of our great city into a ribbon of light. Each bridge will act as a beacon linking north and south of our great city at a time when hope and connectivity is most needed.'
Justine Simons OBE, Deputy Mayor for Culture and the Creative Industries:
'Illuminated River has been a fantastic addition to our city's rich history of free and accessible public art. It has helped Londoners and visitors to the capital to see the river in a new way, lighting up our unique bridges and celebrating its huge impact on our lives. It's great news that work is now beginning on lighting up more bridges for everyone to enjoy.'
Amy Lamé, London's Night Czar:
'The lighting up of bridges across our city has become a beautiful feature of London's night scape and a real complement to our vibrant night life. I'm delighted that as our city emerges from lockdown, work begins to expand the Illuminated River to even more bridges.'
Sir Peter Hendy CBE, Chair Network Rail:
'The Illuminated River Project has already proven its ability to deliver a transformational and world class artwork for London. It has been impressive to witness the Cannon Street Railway Bridge brought to life as part of the successful phase one, a bridge which until now had no existence on the Thames after sundown, despite carrying hundreds of trains filled with tens of thousands of passengers in and out of the city every day. Network Rail fully supports the Illuminated River project growing, as future phases of the project come to the remaining railway bridges, and we look forward to their being illuminated too! The whole project clearly demonstrates the significance of London's bridges both in terms of their impressive architectural value as well as the key role they have had in defining London throughout history.'
William Russell, The Rt Hon the Lord Mayor of the City of London:
'I am delighted to send my warmest congratulations to the Illuminated River team, on the occasion of the first anniversary of this incredible and hugely ambitious project to light up these iconic bridges along the River Thames. Whether they are on foot or on the river itself, people are engaged and enchanted by Leo Villareal's beautiful and striking designs every day.'
Nick Bodger, Cultural and Visitor Development Director, City of London Corporation:

'The River Thames is one of London's most enduring and defining features - with views from its bridges and boat trips to, and from, its piers a must-see for most visitors. Through an innovative and creative approach, the Illuminated River project has helped us rediscover and celebrate the extraordinary role that the Thames has played – and continues to play – in the life of the capital.

Through carefully curated and visually stunning treatments of its bridges at night, you can now see the River reborn as a one of the largest and most impressive outdoor art installations in the world. It has been a privilege and a pleasure for the City Corporation to host and support such an exciting and ambitious project - one that will continue to give enjoyment to the communities that we serve for many years to come.'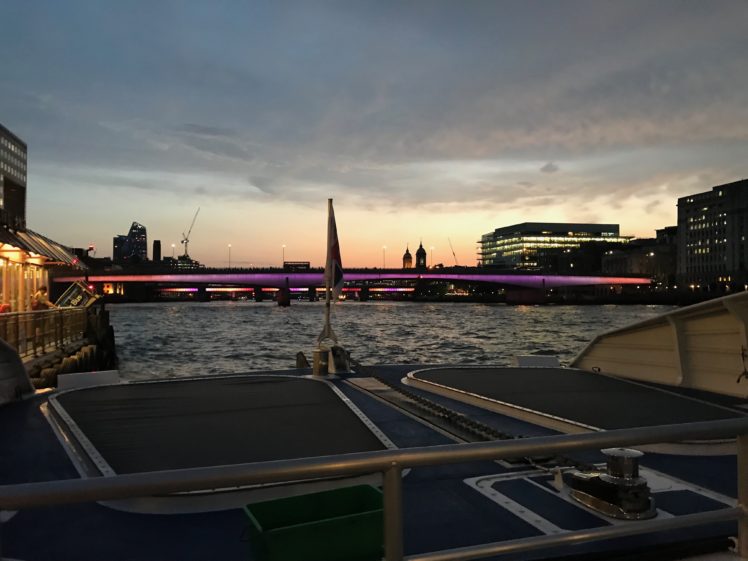 James Bridge, Secretary-General of the UK National Commission for UNESCO:
'The UK National Commission for UNESCO is delighted to partner with Illuminated River and support it with UNESCO patronage. Illuminated River links London's UNESCO World Heritage sites, reconnects people with heritage, and provides a new perspective of the river for both Londoners and visitors alike. This inspired project celebrates the beauty of the river and bridges, while also encouraging people to think about their environment and the issues affecting it.'

Duncan Wilson, Chief Executive, Historic England:
'The Illuminated River project shows what can be achieved with a very clear and compelling vision combined with determination to succeed. At last it begins to do justice to one of London's great defining features – the River Thames – which has held the key to so much of our history. I look forward to seeing the next phase of this remarkable project.'
Jonathan Reekie, Director, Somerset House:
'Somerset House is very excited that the installation of phase two, including Waterloo Bridge, will be commencing in the summer of 2020. At a time of great challenges it's wonderful that this ambitious project can forge ahead, helping us celebrate our heritage and looking to the future be a powerful symbol that knits our great city together.'
The Very Revd Andrew Nunn:
'Illuminated River has brought our bridges to life and the ability to take part in #clapforourcarers was brilliant.'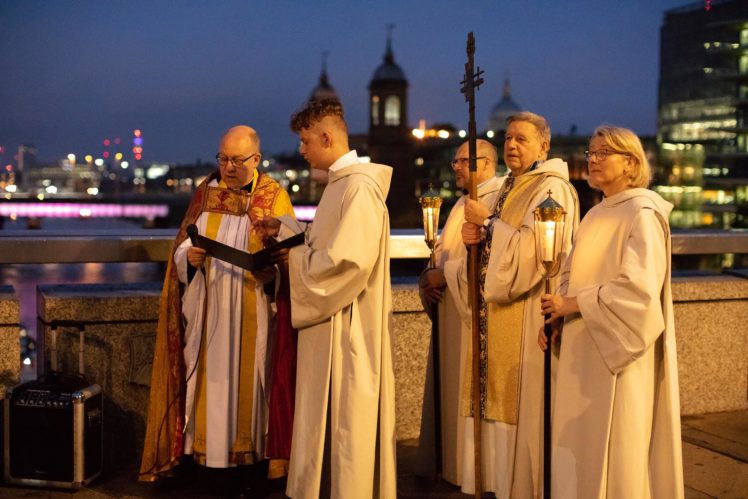 Chris Livett, Managing Director, Livett's:
'I have been out several times onboard our tugs at night and have to say how wonderful the Illuminated River project is when experienced from the river. The reflection, colours and tones are beautiful, they signal hope and warmth.

During these dreadful times of anxiousness and worry, the Illuminated River project has signalled London and the Thames are still alive providing us all with a free, peaceful and thoughtful experience.'
Mark Burton-Page, General Director, LUCI Association:
'In many cities of the LUCI network, rivers and bridges are an important backbone of urban development and light is often associated as an enabler of safety and identity, sustainability and connectivity. In some places, where a clear vision is heralded by strong cooperation, light may become an art form itself, adding vitality and creativity to spaces and driving the city forward. With the Illuminated River project, London is acquiring publicly accessible and qualitative artworks that help build the city's identity through a unique and beautiful riverscape. LUCI looks forward to collaborating with the Illuminated River Foundation as we continue to exchange knowledge about how creative lighting can improve life in cities worldwide.'
Charlie Luxton, Architect and TV Presenter of Channel 4 Documentary 'London's Great Bridges: Lighting the Thames':
'Illuminated River has been from its inception a big hearted project to bring people together and make them see the world in a new way. Having started construction on the second phase of five more bridges this celebration and bringing together seems more necessary and timely than ever.

Given all the recent upheavals, something joyous and beautiful transforming the Thames is to be welcomed and applauded. Good luck Illuminated River team and I look forward to the next switch on.'
Matthew Cock, CEO VocalEyes:
'We're proud to have worked with Illuminated River project, that is not only helping open up the Thames for blind and visually impaired people but has also set a new standard for accessibility for public art projects. Their sensitive commission has resulted in a series of audio-descriptive narratives that draw on the rich social histories and engineering feats of each bridge and evoke the atmospheres of the dynamic artwork. Woven in are musical compositions by students at the Guildhall School of Music and Drama, created in response to the bridges and the artwork.'
Mike Roberts, Head of Electronic & Produced Music, Guildhall School of Music & Drama:

'Illuminated River presented an incredible opportunity to collaborate on a truly unique, world-class International artistic project. Our composers, inspired by the themes of the project, were able to achieve stunning results with Guildhall Session Orchestra and their work continues to reach the ears of thousands people across London'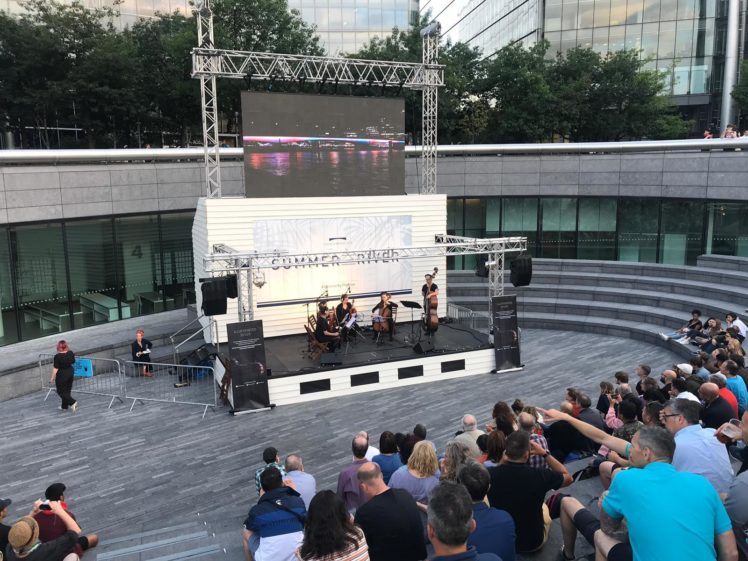 Euchar Gravina, Artistic Director, Waterloo Festival:
'As well as being Artistic Director of Waterloo Festival, I'm a composer and I often find myself thinking of things in terms of music. Illuminated River's engagement programme includes commissioning new music and I'm wondering what sort of music the illuminated Waterloo Bridge will play in my head! The lighting has a sparseness and elegance that reflects Gilbert Scott's 1940s architecture yet is also entirely contemporary. I'm going to enjoy "listening" to it!'
Matthew Frith, Director of Conservation, London Wildlife Trust:
'London Wildlife Trust has welcomed Illuminated River as a means to demonstrate how our city's infrastructure can be better designed to be sensitive to the wildlife we share our city with and still bring delight to people's eyes. Nocturnally active wildlife, such as bats, migrating fish and birds that live in and by the River Thames in central London, are affected by light pollution, and this project has taken on board these sensitivities. We would like to see a city at night that doesn't push out the wild; Illuminated River showcases how it can be done.'
Nadia Broccardo, CEO Team London Bridge:
'Illuminated River has provided a unique gift to our community; a striking public art work that can be seen by tens of thousands of people daily in London Bridge. Given its heritage, scale and importance to London, the river has been under-utilised both culturally and as an every day resource in recent years. Team London Bridge is excited by the opportunity Illuminated River gives us to help reimagine the role of the Thames as we move towards a more sustainable, environmentally aware way of living in the capital.'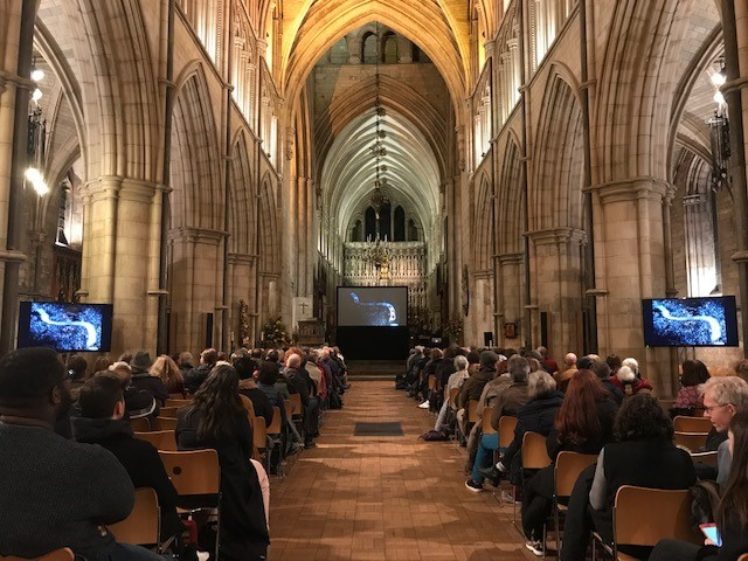 Ruth Duston OBE, OC, CEO of Northbank BID:

'The River Thames is the great artery of the capital and the Northbank BID occupies a privileged position right on the river's north bank in the heart of Westminster. The Illuminated River is a bold and ambitious project to celebrate this wonderful asset and we look forward to it continuing in the coming months. It's a great way to unite the city, especially at a time when we must work together to restore vibrancy across all parts of London.'
Michael Ball, Director, Waterloo Community Development Group:
'Happy birthday Illuminated River! This project has been a ray of sunshine in difficult times. The Thames is our largest and longest amenity space, enjoyed by thousands of residents living close by, and millions who stroll its banks – but there is still plenty of space to stop and rest and wonder where the time goes. Thanks to the Illuminated River project for helping us all enjoy these spaces after dark… and even providing benches to sit and savour its secrets! An old technology from which to enjoy the very latest technology, or, as Mercutio asks in Shakespeare's Romeo & Juliet:

"Who stand so much on the new form that they cannot sit at ease on the old bench?"

How fitting that the benches are close to Shakespeare's Globe: let's hope they can be enjoyed like Falstaff does;

"Thou art so fat-witted, with drinking of old sack, and unbuttoning thee after supper, and sleeping upon benches after noon..."(Henry IV pt1)'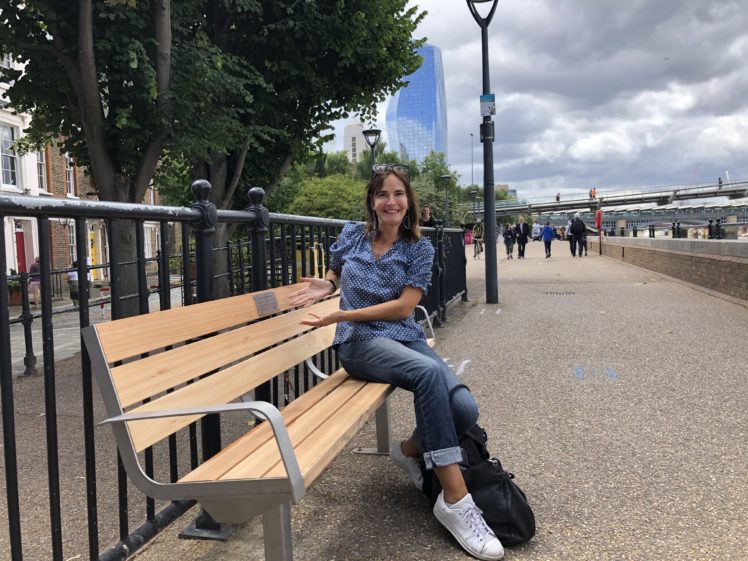 Des Garrahan, Chair, Inner London Ramblers:
'During the summer of '19 I led three walks along the route of the Illuminated River bridges. It was such a treat to see up close and personal how each bridge was enhanced in a different way. It was especially delightful to experience how enthusiastic everybody was about the installation. Truly a project where the whole is more than the sum of its parts. I'm looking forward to repeating the walks when new bridges are added.'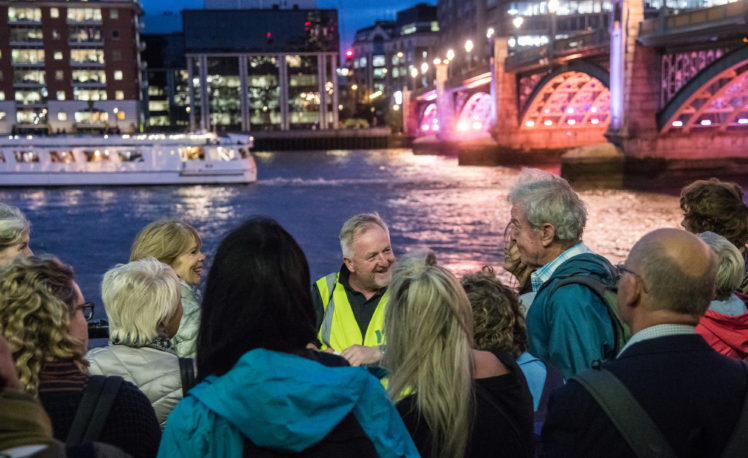 Michelle Lovric, Bankside Resident:
'Over the last year, the Illuminated River has become part of my life, a loved part of it. I have changed the plantings on my balconies so as to frame Cannon Street bridge rather than interrupt the lyrical flows of colour.

In the lockdown, when our need for air and light became visible and visceral, the Illuminated River has been a source of comfort. In the eerie quiet, its colour has throbbed like a living thing. Without the brutal noise of the partyboat DJS, that colour has seemed purer and more intense.

Writing late into the night, it's been like having a vast stained-glass lantern to shine over me and my work. It has been a little like being in a candle-lit church, solemn and beautiful.

The terror attack in 2017 had the opposite effect to the one intended by its perpetrators. Our urban village simply drew closer. It has become even more loving and responsive during the pandemic. Now I like to think of the honeycomb of old and new wharves here, each aperture inhabited by people I know and care about, all cheered by the same kindly light of the Illuminated River.'
Kathleen Ehrlich, Shad Thames Residents Association:
'The history of the Thames is the history of London, and Illuminated River is a wonderful part of its latest chapter. It draws our eyes and minds to the ageless heart of our city at a moment when little else in the world seems fixed.'
Sylvia Williams, Bankside Resident:
'As a Bankside resident I have been particularly grateful for the beautiful illuminated bridges during this long period of staying home. I especially enjoyed walking on and between bridges when they were vibrant blue for the NHS and photographing them against the night sky. The Illuminated River bridges are a wonderful enhancement of the city, an imaginative and generous gift to London.'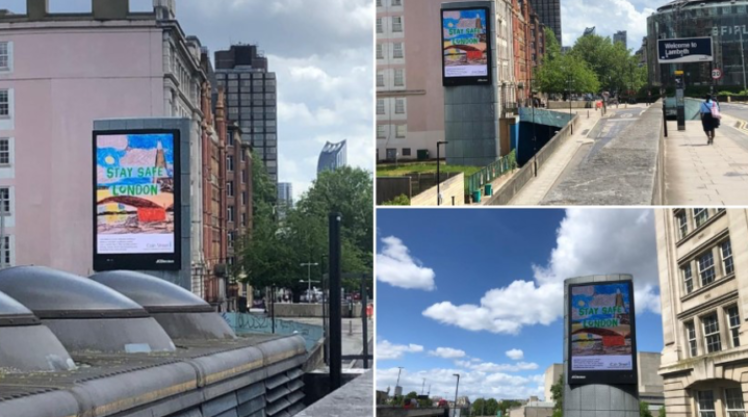 Geena Patel, Communications Coordinator, Coin Street Community Builders:
'The Illuminated River Foundation's Community Fund helped us to develop and deliver art workshops for young people aged 9+ in our local community. This project brought virtual art classes to 15 young artists helping them relax their minds during the difficulties of lockdown.'
Amaya Jeyarajah Dent, Creative Producer, Emergency Exit Arts:
'Illuminated River create engaging ways for local people to get to know the river better. Their projects are exciting, beautiful and their knowledge of the Thames is second to none. London communities have a huge amount to learn from them about the river that runs through our city.'
Carole Wright, EEA Waves of Wonder Illuminated River Community Fund Project Participant:

'It remains a very moving and much needed action, that you continue to programme and work with social housing estate residents and the schools their children attend. It lets us know we are worthy of pageant in our lives and need to celebrate our neighbourhoods.'