Celebrating one year since the completion of Illuminated River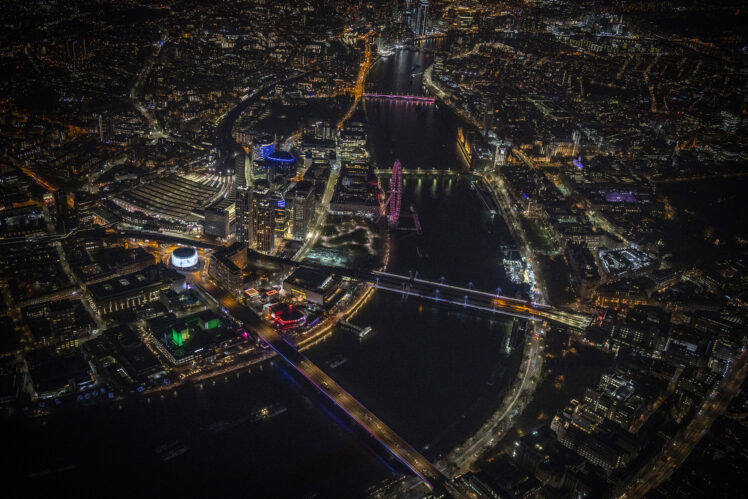 Over the past year, Illuminated River has transformed the river Thames at night – from a snake of darkness to a ribbon of light - with artist Leo Villareal's orchestrated series of light works across London to Lambeth bridges.
The long-term art installation was unveiled in its entirety on 13th April 2021, with Lambeth, Westminster, Golden Jubilee, Waterloo and Blackfriars Road Bridges joining Millennium, Southwark, Cannon Street and London Bridges, which were illuminated in July 2019.
This visionary public installation celebrates London as a uniquely creative and innovative world city and, at 3.2 miles, it is the longest public art commission in the world, on display every evening from dusk until 2.00am. An estimated 90 million people will see the nine-bridge artwork each year.
Funded by philanthropists with the support of the Mayor of London, the project's funders include Arcadia – a charitable fund of Lisbet Rausing and Peter Baldwin, the Blavatnik Family Foundation, the Reuben Foundation and the Rothschild Foundation.
To mark the first anniversary since the completion of this monumental art commission, supporters and partners reflect on Illuminated River's contribution to London's public realm and its cultural impact:
Sir Nicholas Serota, Chair, Arts Council England:
By using subtle and varied lighting to enhance the character of each of the bridges that cross its waters, the Illuminated River project has turned the Thames at night from a dark and threatening force into a festive thread.
Ben Roberts, Chief Executive, British Film Institute (BFI):
The artistry of the Illuminated River installation has been truly a cinematic love letter to the river and its bridges that inspire us every day, celebrating the culture, creativity and nightlife that take place along the Thames. Lighting up more bridges to expand this ribbon of light, including BFI Southbank's home under Waterloo Bridge, has been a wonderful gift to London, offering everyone a beautiful experience of the river at night of London.

Duncan Wilson, Chief Executive, Historic England:
The Illuminated River has been one of the most ambitious public art projects ever, drawing on that least appreciated but most important feature of London, the river Thames. It has succeeded in drawing in many millions of people and encouraging us all to appreciate the river's beauty and its timeless significance in our history, all done using light in a subtle and sensitive way. Historic England continues to be fully supportive of the project.

Hannah Rothschild CBE, Illuminated River Foundation's Board of Trustees:
Leo Villareal has succeeded in transforming the Thames, for too long a snake of darkness running through the heart of our great city into a ribbon of light. Each bridge acts as a beacon linking north and south of our great city at a time when hope and connectivity is most needed.
Rufus Norris, Director, National Theatre:
The Illuminated River public art installations are a hugely welcome addition to London's vibrant night-time culture, and add a magical aesthetic to the timeless thoroughfare that is the Thames. The creativity taking place along the South Bank is echoed by the lighting design across our neighbouring Waterloo Bridge, to be enjoyed by all those passing through this buzzing artistic hub.

Sir Peter Hendy, Chair, Network Rail:
Network Rail, as Britain's railway infrastructure owner, was delighted to facilitate the Illuminated River project; our iconic Thames railway bridges have been beautifully enhanced, and now form part of one of the greatest public art projects in the world. We salute those who have created and implemented a project for the city and country to be proud of, and who've made our extraordinary Victorian railway assets so beautiful at night!

David Panayiotou, Head of River Services, Transport for London:
London is the culture capital of the world, and the illumination of nine bridges across London by the award-winning artist Leo Villareal and the Illuminated River Foundation has significantly added to this by transforming London's iconic riverfront at night. A year on from the illumination of bridges including Westminster and Lambeth and London is ready to welcome and entertain visitors from across the UK and around the world again, and we hope that many of them will use London's river services to see the spectacular sight of London's bridges illuminated at night.

Jeremy Vine, Presenter and Broadcaster:
The lights do something more than simply illuminating bridges. You feel you're being connected to London's soul. Thank you for this wonderful innovation. It makes me do that rare thing in London — stop and take in the view. So simple, so creative. Just a beautiful project that has transformed a walk down the Thames.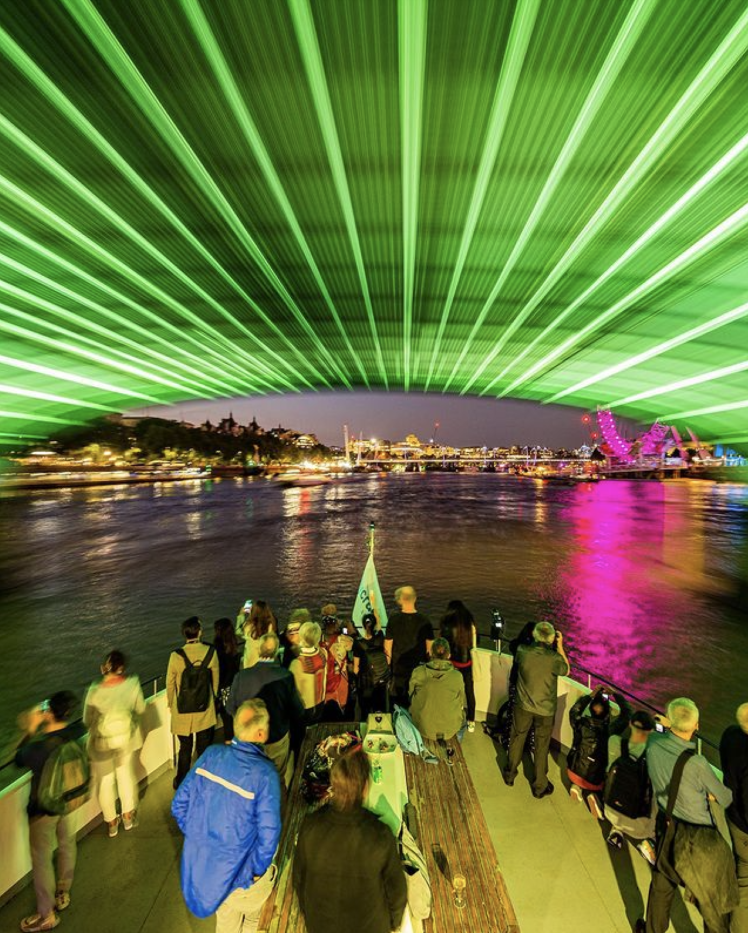 Impact
The project has achieved a series of milestones, having engaged over 10,000 people in Illuminated River's broad public programme of events, since the first phase of illumination in July 2019.
Socially distanced Illuminated River walking tours led by the City of London and Westminster Guides continued throughout the pandemic, including free tours offered to NHS staff and key workers. Meanwhile, over 4,500 people have enjoyed low price Illuminated River boat tours subsidized by Illuminated River and run in partnership with Uber Boats by Thames Clippers, increasing access to the Thames.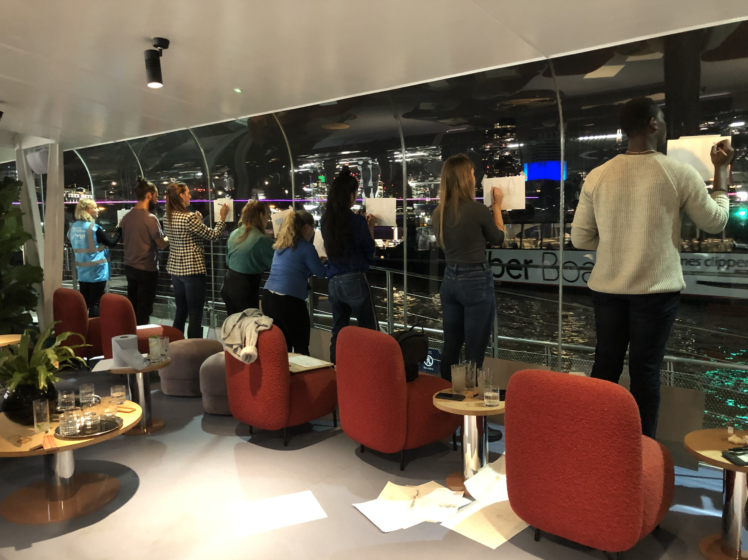 Several exciting collaborations have been launched since the artwork's completion in April 2021:
The Foundation partnered with VocalEyes charity to ensure that those with sight loss are able to enjoy the entire artwork through audio description.
Over 30 musical interpretations of the artwork from rising young composers at the Guildhall School of Music & Drama were commissioned by the Foundation to mark the illumination of the final five bridges.
A three-nights programme of fun low-cost Illuminated River themed events formed part of Totally Thames Festival in September 2021, including a photography workshop with Morley College, a Black History Walk of the Thames Bridges and a night sketching workshop run by artist Alexist Teplin at Bateaux London's Pier Bar.
The Foundation curated five new online exhibitions on Google Arts & Culture, featuring specially commissioned 360° photography of the final five bridges.
The Illuminated River category of the Thames Lens Competition 2021 received almost 200 entries - 'Colour Rush' by Warren Chrismas' was declared the winning photograph.
An exhibition dedicated to Illuminated River and the work of artist Leo Villareal was displayed at Waddesdon, the Rothschild House & Gardens in Buckinghamshire, from November 2021 - February 2022 - making the project accessible to visitors outside of London.
A new 'Southbank to City Lights & Bites' walking trail showcasing Illuminated River was launched in February 2022 as part of the Mayor of London's 'Spring into London' campaign. This joined a host of self-guided tour options for visiting the artwork, encompassing the Go Jauntly app, a bespoke lighting design map by Atelier Ten, and Illuminated River's custom map, tailored to suit a range of interested audiences.