Our Community Fund supports local organisations and community groups to deliver projects, events and activities that engage with the Illuminated River artwork, and encourage more people to enjoy and learn about the Thames, its bridges and riverside at night.
Here are some examples of initiatives that have been supported by our Community Fund so far:
'Blackfriars Stories: Waves of Wonder' workshop & parade
We were delighted that the Community Fund was able to support Emergency Exit Arts' 'Blackfriars Stories: Waves of Wonder' project in December 2019.
The team worked with St Jude's Primary School, St George's Cathedral RC Primary School and Charlotte Sherman Primary School to run workshops where 120 pupils produced glowing lanterns inspired by London, Cannon Street, Southwark and Millennium bridges.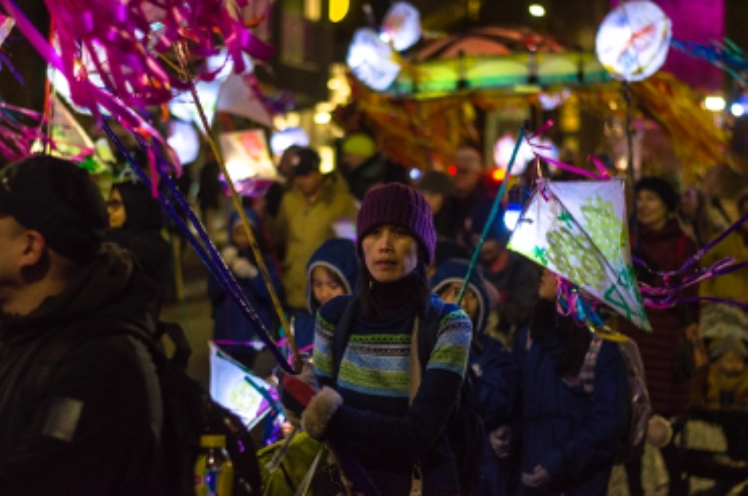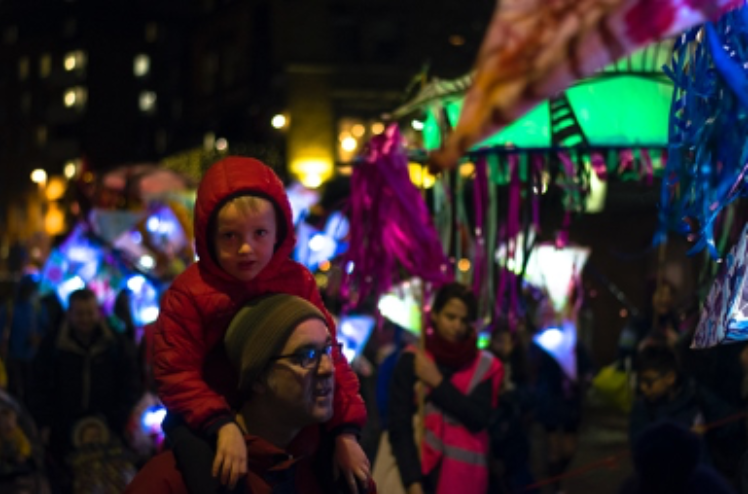 In addition, the fund supported a series of free lantern making workshops for people of all ages and abilities living close to the river, which included a riverside walk along the Thames to draw inspiration from the bridges.
The project ended with a procession led by a giant mechanical turtle, weaving its way through the streets of Southwark, culminating in Mint Street Park for a family disco finale. The Illuminated River bridge lanterns acted as guiding lights in the procession and the pupils who took part in the workshops were invited to join in the fun with their families.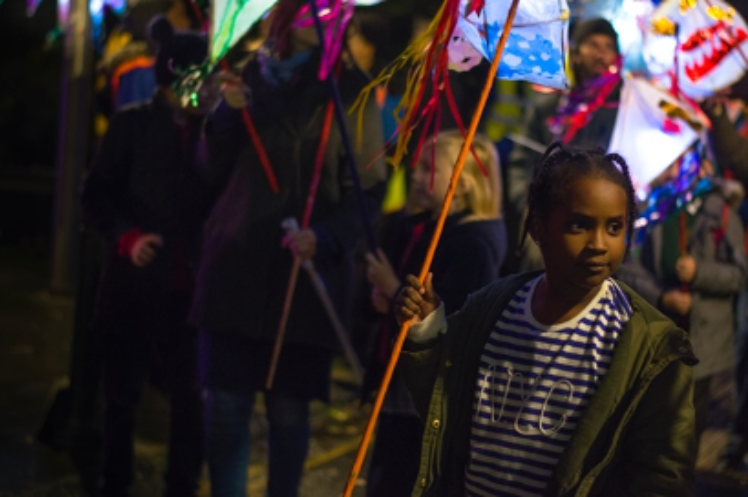 'Fascinating stuff. I have thoroughly enjoyed doing something new and free and learning so much about the river!' Workshop participant.
'It remains a very moving and much needed action, that you continue to programme and work with social housing estate residents and the schools their children attend. It lets us know we are worthy of pageant in our lives and need to celebrate our neighbourhoods.' Carole Wright, Blackfriars estate, Peabody resident.
Online art classes for young people living in North Southwark and Waterloo
During the Summer of 2020, Coin Street Community Builders were supported by the Community Fund to develop and deliver online art workshops for 18 young people aged 9+ from the local community surrounding the bridges.
The young people learnt about Illuminated River and worked with an artist across six weeks to create their own works of art. Their work was inspired by images of London, Cannon Street, Southwark and Millennium bridges illuminated at night and focussed on a different historical art movement each week.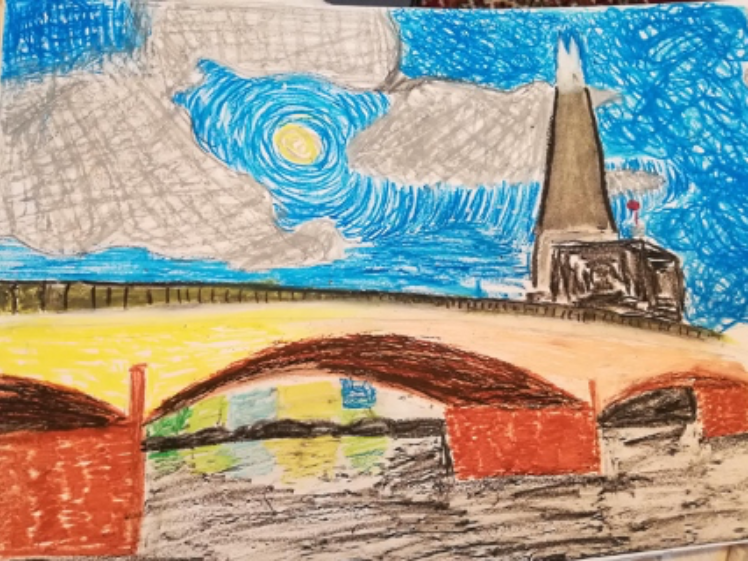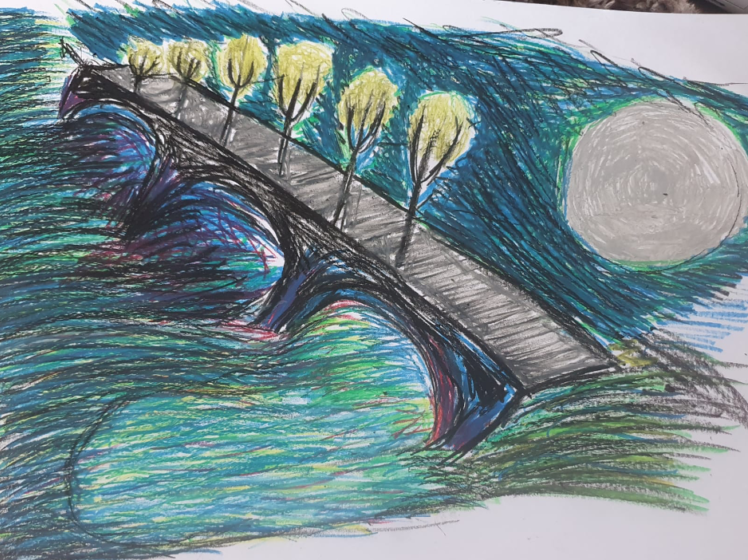 From oil paintings inspired by the Impressionists and the Fauves to abstract collages, we were extremely impressed by the work produced. One of the paintings by Iman, aged 14 was even displayed on a billboard next to Waterloo bridge.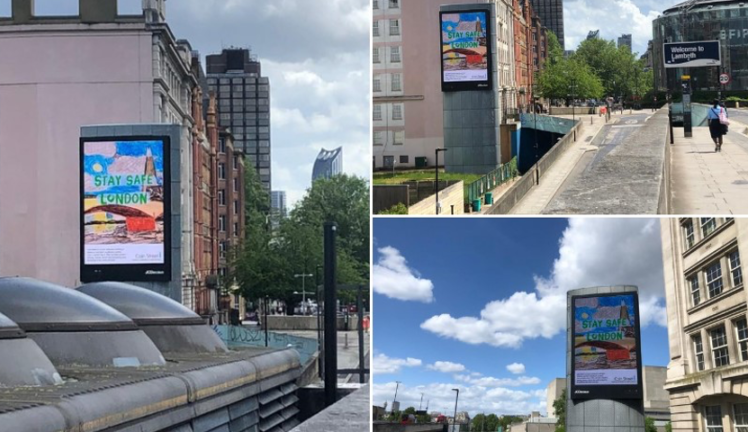 We were delighted to gift these budding artists their very own art kits for sketching at the end of the project, to encourage them to keep up the hobby and perhaps become the next Monet or Turner.
Online art classes for local people over 60
We also supported Coin Street to develop and deliver a series of online art workshops for 26 people over 60 living in or with links to the area surrounding the phase one bridges.
Over six weeks the group used images of London, Cannon Street, Southwark and Millennium bridges illuminated at night as a reference point to create artwork inspired by Van Gogh, Hurvin Anderson, Turner, Wilhelmina Barns Graham, Cye Twombly and Prunella Clough.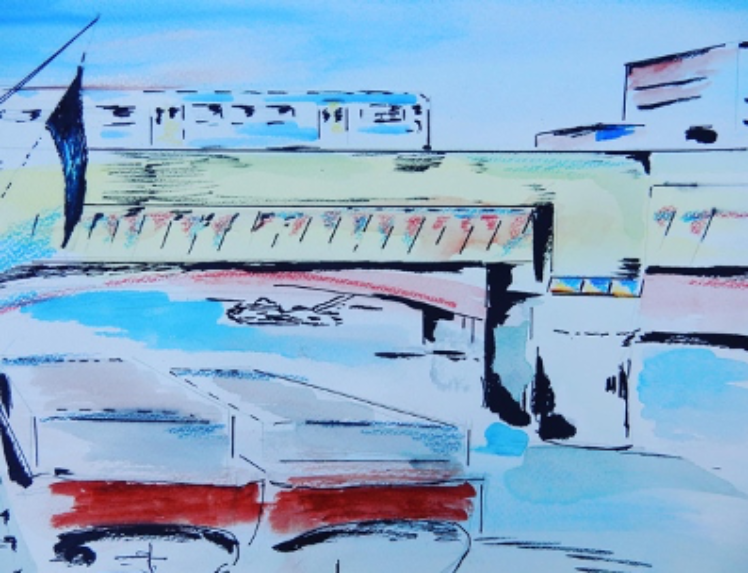 'It was a real joy to join the Coin Street community group for this course, I feel I have an affinity with the South Bank and its surroundings. Rivers and bridges have always been a personal interest, whilst I was aware of the Illuminated River project and having sketched and painted some river scenes before, this course really was a personal delight and it enabled me to explore new ways of capturing river scenes and my feelings for the Thames and London. I also learnt much more about Illuminated River. My thanks to Illuminated River, Ellie and you all at the Coin Street Centre.' Art workshop participant.
'The Illuminated River project gave me the opportunity to learn techniques from various famous artists whilst using the river and bridges as a theme for me to attempt my expression of those various techniques. A very enjoyable experience.' Art workshop participant.
Exploring the Thames: History Walks
Living Bankside are currently being supported by the Community Fund to deliver a series of history walks for local people focussing on London, Cannon Street, Southwark and Millennium bridges.
The first session was held in February 2020 before the pandemic and have been on hold due to COVID-19. Living Bankside are very much looking forward to starting up these sessions again when restrictions are eased.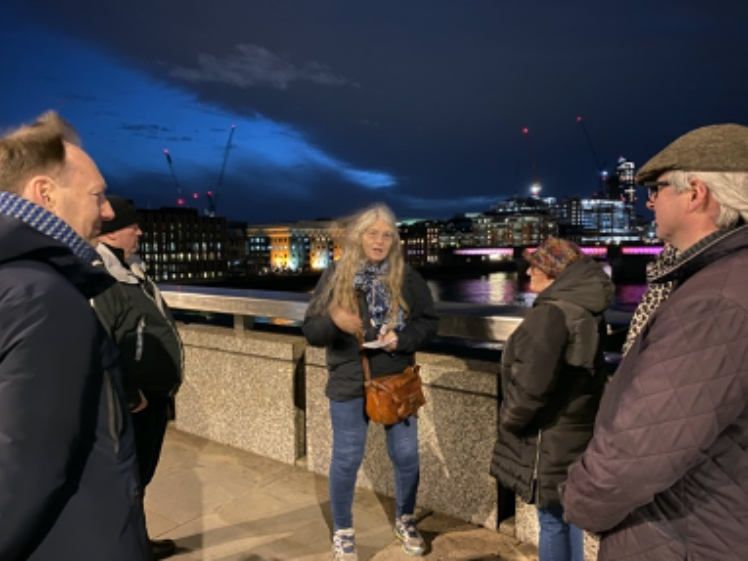 **********
Find out how you can apply for the IRF Community Fund here.
Applications will be accepted on a rolling basis and considered by a panel of representatives including local groups and councils as well as the Illuminated River Foundation.
The Illuminated River Foundation is grateful for the generous support of the Rothschild Foundation and members of our Project Team towards the 2019 IRF Community Fund: Atelier Ten, Colt Technology Services, Core Five LLP, FM Conway, Lifschutz Davidson Sandilands, Jackson Coles LLP and Signify Commercial UK.