Hanging Around on Southwark Bridge
Usually found googling fascinating bridge facts or exploring the Twitter-sphere, our digital team at Caro Communications is far more familiar with social media and websites than installation and abseiling. However, this didn't stop them from getting their hands dirty earlier this month as they joined FM Conway for an abseiling experience over Southwark Bridge. Here, we capture their thoughts on joining the onsite Illuminated River team.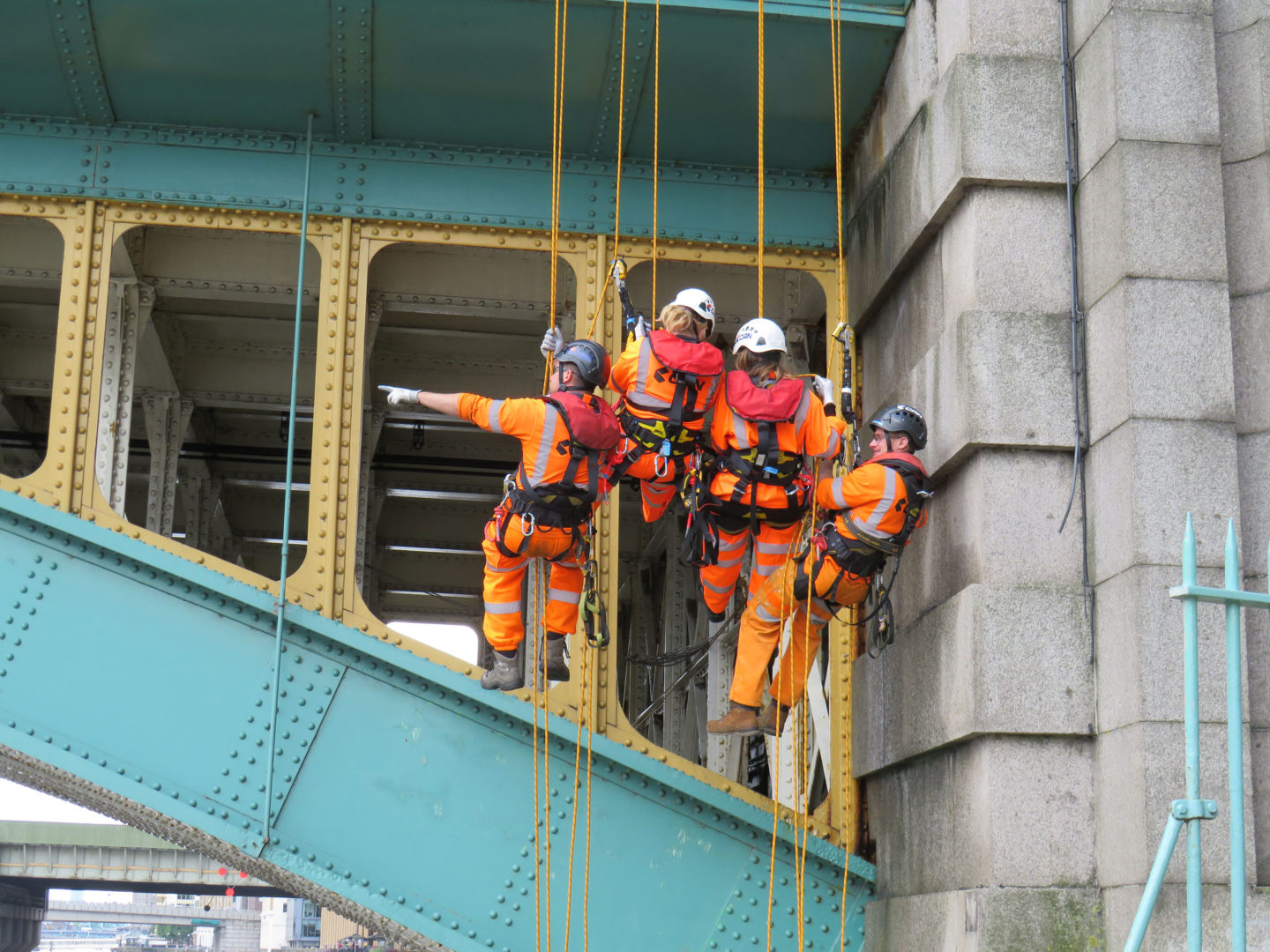 As Vickie, Sam and Ben guided us over Southwark Bridge's familiar turquoise and yellow parapets, the reality of our descent sets over us. Abseiling over the tidal Thames on a cloudy Friday morning is a far cry from our usual morning routines, but we were really excited to be given the opportunity to see the onsite installation for Illuminated River up close. With much reassurance and patience from the FM Conway team, we clipped onto our guides and took a small step over the final ledge to descend to the sophisticated ironwork below. Both FM Conway and CAN Structures have been working onsite installing Illuminated River, using their extensive knowledge of specialist access, construction, transportation and much more to ensure efficiency and success in installing the Illuminated River artwork.

Grade II listed Southwark Bridge opened almost 100 years ago in 1921, and features five steel arches supported by four stone granite piers. Having extensively researched and written about the bridges of central London for Illuminated River's social channels, scaling the impressive structure of Southwark Bridge was a fantastic opportunity for us to see not only a historical and architectural landmark up close, but to also get a better understanding of the urban setting of the Illuminated River artwork and the role of bridges as places for reflection and enjoyment.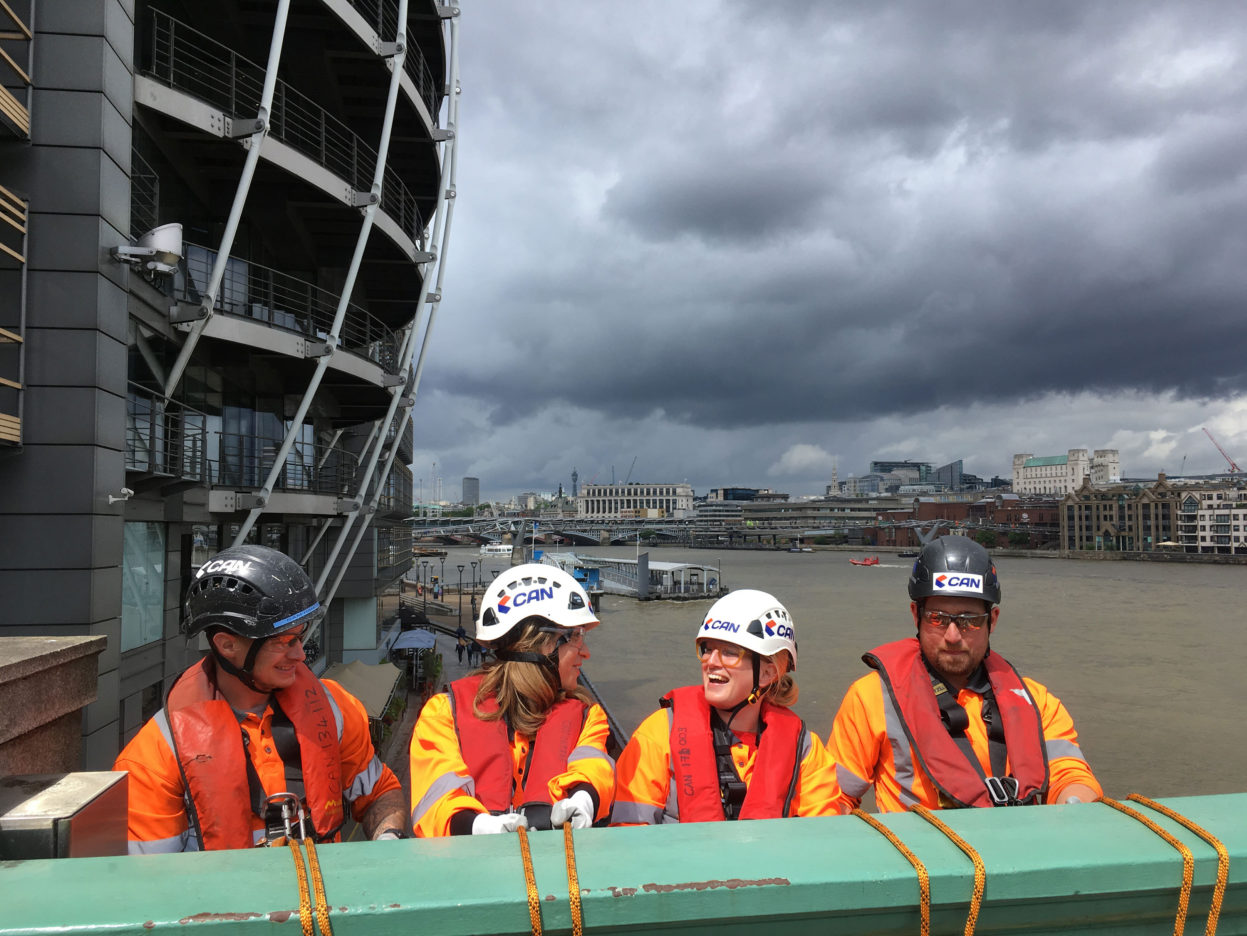 In PPE fluorescent orange jackets and trousers with matching CAN regulation hardhats, we certainly looked the part, despite our trembling hands and nervous smiles. As we leveraged ourselves down, perched over the rising river tide, Sam explained to us some of the work that the team have undertaken since beginning onsite; Installing an artwork of this scale is no mean feat! A day's work may include abseiling on a bridge pier with 70kg of fragile technical equipment ready to be installed on the bridge's underside. To aid installation, CAN designed and installed 'work site encapsulation' systems which appear cradle-like on the sides of the bridges. These bespoke systems assist the onsite crew with intricate works, allowing them to access often concealed places safely and carefully. The systems allow the works to remain sensitive and respectful towards the historical structures and have avoided the need for bridge closures, keeping disturbance to a minimum for bridge users.

Our experience took only 20 minutes, from our initial parapet climb down to our arrival on the river steps below, whereas CAN teams have worked over 2000 shifts both day and night in order to complete this challenging project. The team have had to work over the width of the Thames, on an operational railway, over and adjacent to pedestrian footpaths, cycle routes, bus lanes and much more!
Descending Southwark Bridge gave us a unique perspective on the scale of work, from the bespoke light fittings and fixtures being installed to the complexities involved in working on historical structures. We feel very lucky to be part of the Illuminated River team as no one day's work is ever the same and we cannot wait to see this monumental artwork lit this summer. Keep an eye out on Twitter @illuminatedriv to see the artwork come to life.