Ropes, nets and abseiling off bridges: innovative engineering and the world's longest public artwork
Guest Post by Mark Holland, FM Conway Project Manager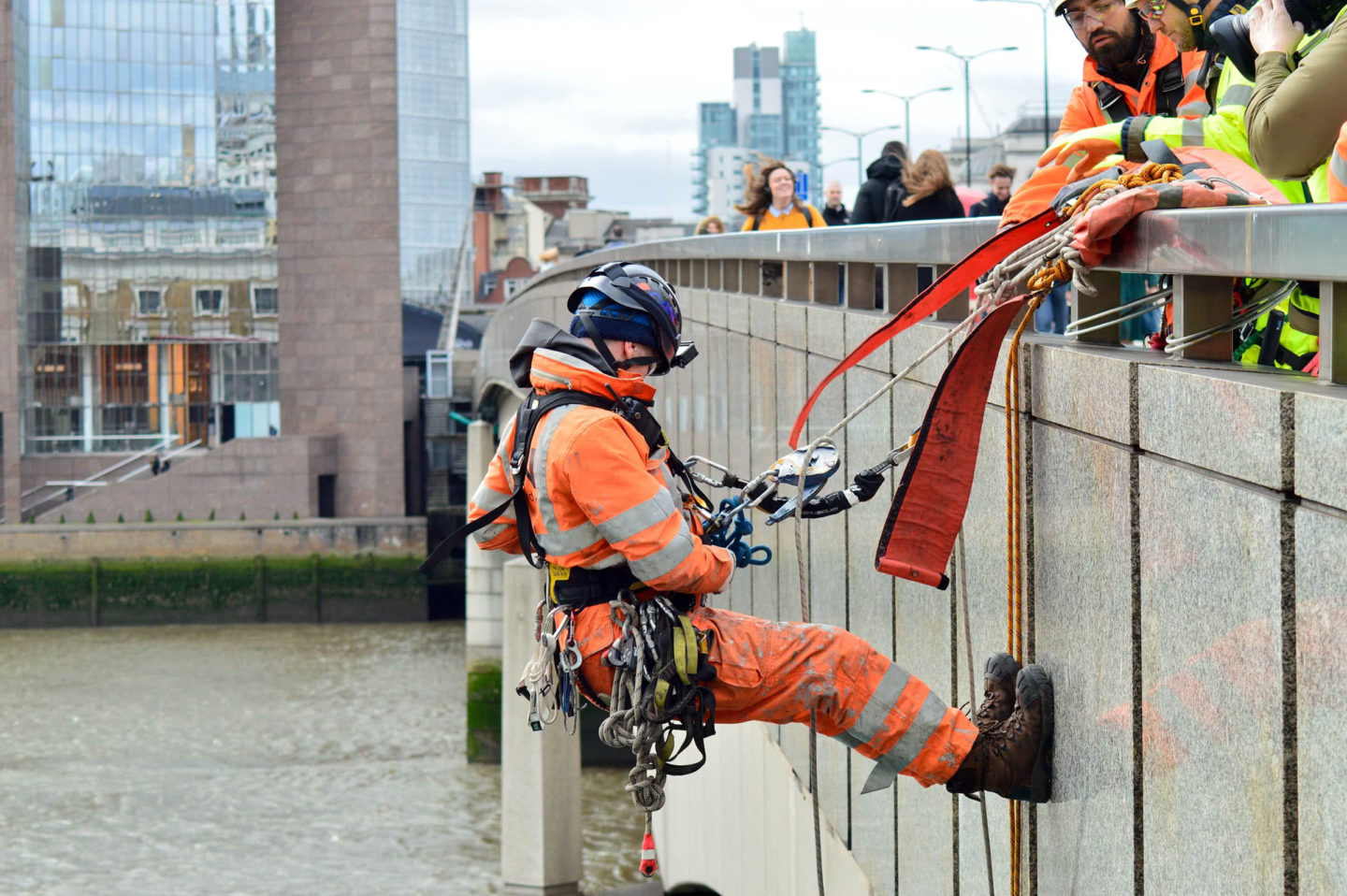 As Project Manager, it's my job to make the installation of Illuminated River run smoothly, and to coordinate all the engineering and logistics behind the scenes. Delivering a project of this scale and complexity is no small task, and there is an extraordinary amount of planning and preparation to make sure everything is considered in advance.
Working in London on some of the city's most iconic bridges is a job that does not come along every day. It fills me with pride to be working on these great structures, which pull you into the history, not just of the bridges but the city itself. But with great history and architecture comes great challenges.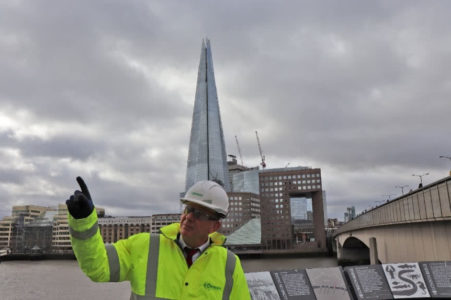 We are approaching this as a piece of art rather than an engineering product. This in itself is unique as it means that everything we do focuses on the architectural aesthetics of the finished lighting scheme whilst the engineering of this project is merely the enabler to bring the artwork to life. Everything has to be thought about, from the exact shade of our fixings to the existing sensitivities of these historic bridge structures. This is also what is so inspiring about Illuminated River; for the first time the lighting on the Thames bridges is being approached with a cohesive, artistic vision that reveals and celebrates the architectural and historical identities of the bridges.
In ensuring the vision of Leo Villareal and Lifschutz Davidson Sandilands can be realised, there are constant puzzles to solve because of the existing engineering conditions. Making sure everything has space to fit is one hurdle, as some bridges, such as Millennium Bridge, have little room beneath the decking. We've had to find innovative solutions, and in doing so, have made new friends. Our cabling for Millennium Bridge now actually feeds vertically down into the City of London School, who have been very accommodating. The historic Fishmongers' Hall on the north bank of London Bridge have allowed us special access through their site.
The river itself has been a most unusual building site and a new experience for us. The Thames is a busy working river, which can make it a particularly challenging place to operate, not to mention the fact that the river itself is tidal. We have got to know the local boat companies on the Thames, and have made sure our working schedule is convenient for them. In practice, this means complex planning of which bridge arches we are working on, and how we synch the bridge arches as we move down the river. Every day, we are transporting our own materials by river, in order to cause minimal disruption to bridge users. We have got to know the tidal patterns of the Thames, which rise and fall twice a day, up to eight metres.
We have had to come up with entirely new inventions, such as our encapsulation systems (protective netting). Working closely with the Port of London Authority in developing safe access over the river, these bespoke encapsulation systems enable our abseiling teams to work directly above live river traffic, avoiding the need for bridge span closures.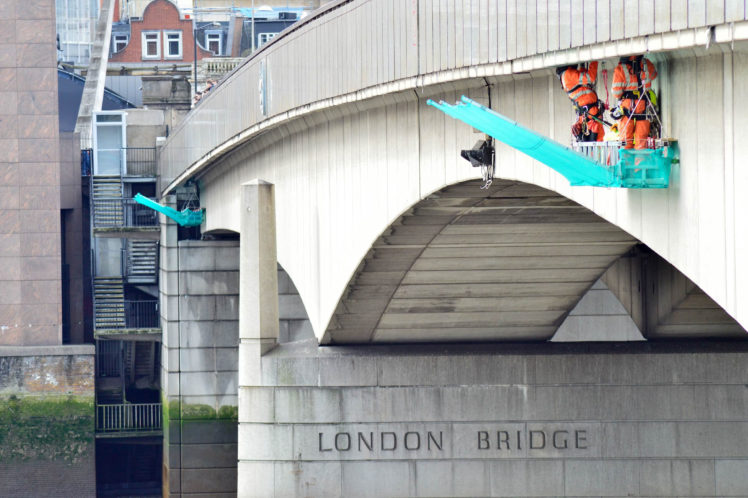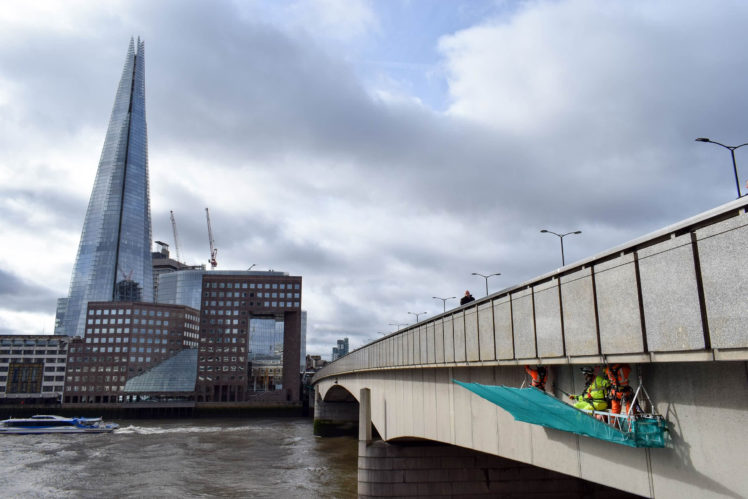 We are collaborating with so many partners and stakeholders on this project; the City of London and the local London boroughs have been very involved, the Port of London Authority who have ensured our river licenses are fully compliant. Our stakeholders are also Londoners, visitors to London and the constant commuter traffic! Millennium Bridge, for example, has an extremely high volume of pedestrians with research showing in excess of 20,000 people crossing the bridge daily, so we are trying to remain open throughout and work around them. Keeping pedestrians safe whilst they are crossing the bridge is our number one priority.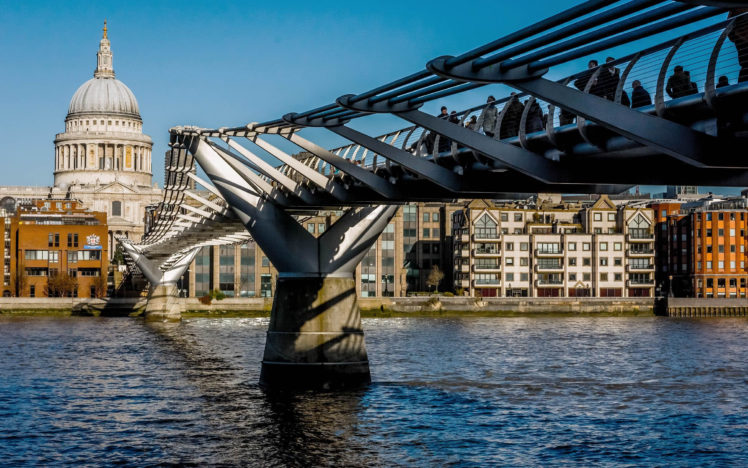 The complexities around this high-profile, interdependent job are as fascinating as they are challenging. The individual materials needed to deliver this project have been outstanding. We have probably used around 2000m of cable tray on London Bridge and 10,000 rawl-bolt fixings to hold the cable in place. So vast have been the requirements that we have created a temporary national shortage in stainless steel cable tray and we have used everything in the country within a reasonable distance!
Limited space on the bridges means that, each night, we have to move all our working materials back to our depot in Mandela Way, Bermondsey. You may be thinking that this doesn't seem too great a challenge, but when this is moved via wheel-barrow back and forth on Millennium Bridge which is nearly 350m long, well… we've provided our operatives with fitbits as they will be smashing their targets.
The logistics of the programme continue to challenge me. The need for precise timing, the strict deadlines, the stakeholder management, the infrastructure complexities and materials innovations ensure there is never a dull moment, however, this is also what excites and drives me and has given me a whole new appreciation for the bridges of the River Thames.