The World's Longest Public Artwork — Viewing Figures
Drawing upon data provided by some of the River Thames' key stakeholders, Illuminated River have produced a set of infographics that help illustrate when, where and how often the artwork will be viewed by Londoners and visitors. Illuminated River's estimations take into account peak and off-peak travel times for Transport for London and London River services, as well as the frequency of people visiting the Thames' most popular riverside spaces at night. We have taken into consideration visibility during Greenwich Mean Time versus British Summer Time, as the artwork will be switched on only when darkness falls. From October-March, Illuminated River will be viewed by over 50 million commuters using the Thames' bridges during peak travel times, which fall in dusk to darkness hours. Plane and helicopter passengers viewing Illuminated River from the air over central London has also been incorporated into the total viewing figures.
Our figures do not take into account bus or car users.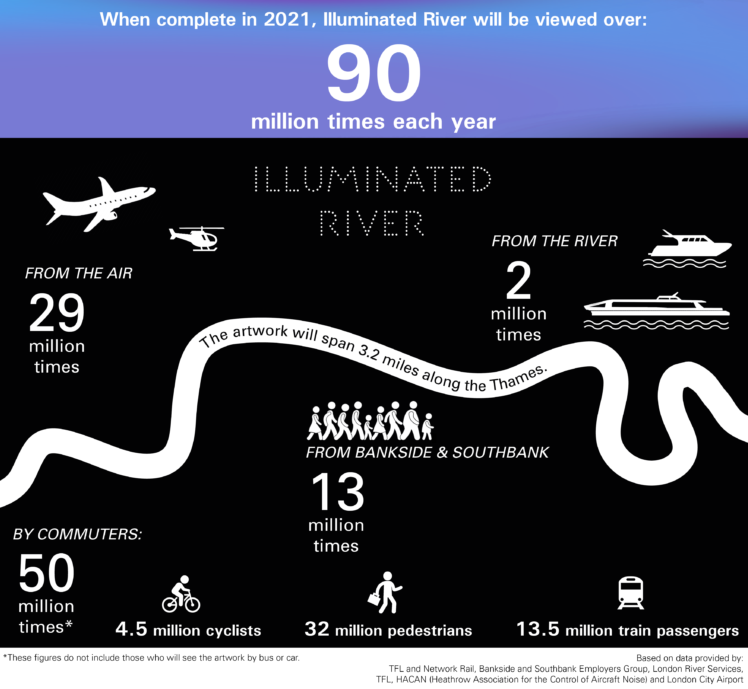 First Four Bridges – Viewing Figures
London, Cannon Street, Southwark and Millennium bridges were illuminated in Summer 2019. It spans the busy riverside areas of Southwark and the City of London – home to Tate Modern, Shakespeare's Globe and the Tower of London.