Down­load our new audi­oguide and map of the first four Illu­min­ated River bridges!
Download our new audio guide and map of the phase one Illuminated River bridges and enjoy a socially distanced, evening stroll along the Thames.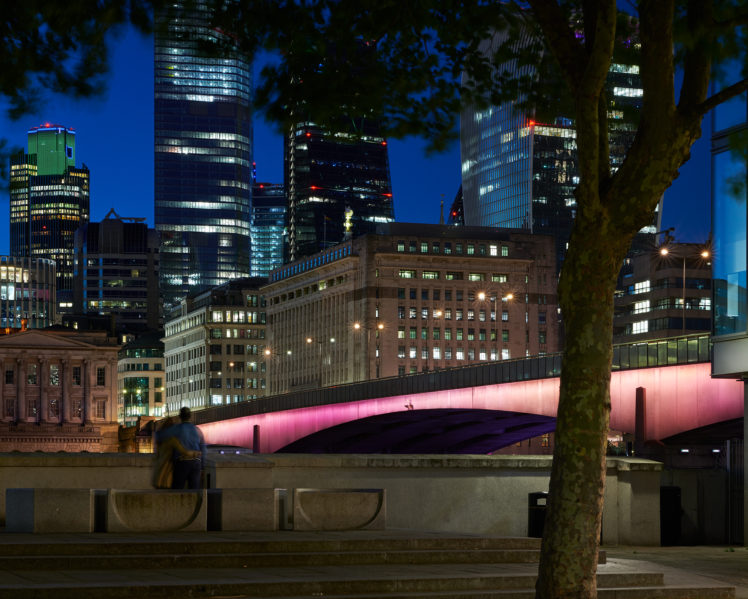 Illuminated River audio guide narrated by City of London Guide, Stephen Benton.

This free audio guide of the first four bridges delves into the rich history of London, Cannon Street, Southwark and Millennium bridges and highlights key sites of interest along the south bank, including Shakespeare's Globe, Southwark Cathedral and the Anchor Pub. Discover the artistic vision behind the Illuminated River bridges, the fascinating tradition of swan upping, the 17-19th century Thames frost fairs, and more!

The audio guide lasts 25 minutes and includes eight stops along the south bank of the Thames, starting next to Tate Modern and ending nearby London Bridge. Please refer to the map below which outlines the step-free, mile-long walking route. The eight stops are marked by musical note symbols.
Click here to listen to the free audioguide via Soundcloud.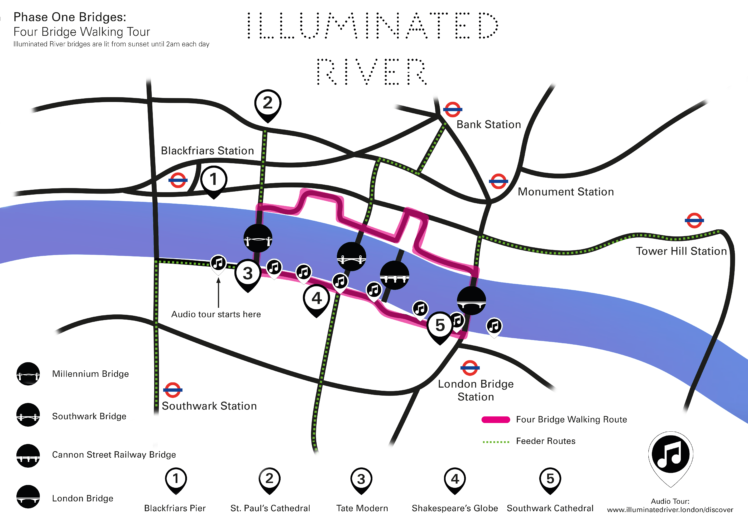 Self-guided walking route
You can also explore the artwork at your own pace, by downloading our custom map and historical information pack of the first four bridges. Follow the two mile walking route highlighted in pink and traverse the north and south bank of the Thames.

Why not listen to original music inspired by the unique heritage and architecture of the bridges as you walk?
The music was composed and produced by students from the Guildhall School of Music & Drama as a response to the unique heritage and architecture of the Thames bridges. From sweeping orchestral scores to minimalist electronic pieces, Illuminated River commissioned the new bridge music to mark the illumination of the phase one bridges in July 2019. You can listen to the full set of the new bridge music via Soundcloud and read our blog series about the creative process.