Modes
Owner

Royal Borough of Kensington and Chelsea
Completed

1873
Designer

Rowland Mason Ordish
Heritage status

Grade II*
Opened in 1873, Albert Bridge was designed by Rowland Mason Ordish and uses the Ordish-Lefeuvre system, a form of cable-stayed bridge. In 1884 Sir Joseph Bazalgette incorporated design elements of a suspension bridge to stabilize the structure and in 1972 the Greater London Council added two concrete piers to support the central section of the bridge. The bridge's many cables are covered with some 4,000 lamps so that at night the bridge is bathed in light.
The bridge still has its old toll booths at the North and South landings. Tolls for crossing the bridge were collected until the 1877 Metropolis Toll Bridges Act enabled all London bridges between Hammersmith and Waterloo to become emancipated.
There have been multiple attempts to close and demolish Albert Bridge since it opened in 1873, primarily due to concerns around its structural integrity. It was nicknamed the "trembling lady" due to its propensity to shake. A sign on the bridge can still be seen instructing soldiers not to walk in step at each end of the bridge; no doubt a response to the marching soldiers from nearby Chelsea Barracks.
The latest attempt to demolish and rebuild the bridge was made during the 1950s, but these proposals were defeated by a collection of local residents, led by the late Poet Laureate Sir John Betjeman.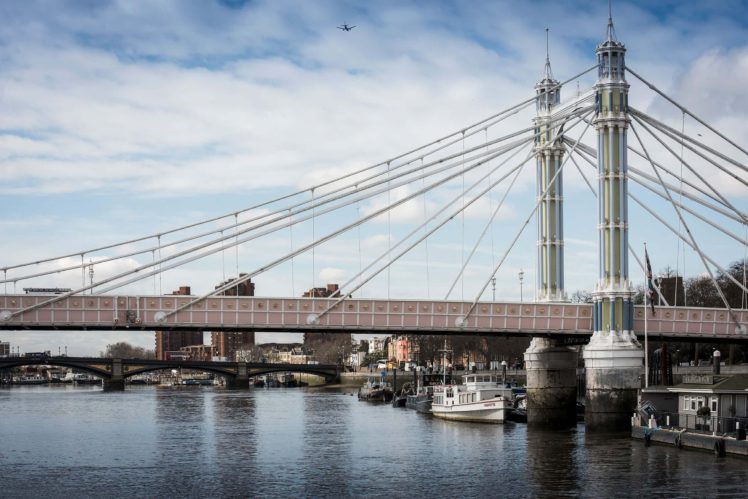 Artist's Vision
The hybrid suspension and beam design of the bridge offers a unique opportunity for illumination and is one of two bridges in the project – along with Chelsea – to use marquee lighting. Villareal will respect the existing lighting effect, maintaining the monochromatic colour palette by utilising white lights along the suspension cables and on the outward faces of the deck.
The gently shifting illumination of the horizontal span will move in concert with the shimmering of the lights on the cables, enhancing the bridge's much-loved 'twinkling' effect, yet with more environmentally sensitive LED lighting.