Golden Jubilee Footbridges
Spring 2021
Modes
Owner

Westminster City Council, Network Rail
Completed

2002
Designer

Lifschutz Davidson Sandilands
A competition was launched in 1996 to design two footbridges that would flank the existing Hungerford Bridge and commemorate the 50th anniversary of the Queen's coronation. Illuminated River's architects Lifschutz Davidson Sandilands won the competition alongside engineers WSP Group with a design of twin cabled-stayed 15-foot-wide and 984-foot-long footbridges attached to a forest of leaning suspension masts. Princess Alexandra officially opened the Golden Jubilee Footbridges in July 2003.
The Golden Jubilee bridges are not the first bridges to be crossable by foot at this point of the river. The original structure for the Hungerford Bridge was an elegant suspension footbridge designed by Isambard Kingdom Brunel which opened as a toll bridge in 1845. On its first day, more than 80,000 people paid 1/2d each to cross. Commissioned by the Hungerford Market Company in an attempt to attract business from the South Bank, it was then the longest suspension bridge in Britain at 1,462 feet.
The Hungerford Bridge and Market were purchased in 1859 and subsequently demolished by the South Eastern Railway Company in order to extend their line from London Bridge through to the newly proposed Charing Cross Station. The new railway bridge was designed by Sir John Hawkshaw in 1864 and constructed from nine wrought-iron girders set on cast-iron cylinders. In 1886 the bridge was widened to accommodate an increase in the number of railway tracks from four to eight. Pedestrian walkways were then added to each side, but when the railway bridge needed to be widened again the upstream walkway was removed. The remaining footbridge was narrow, poorly maintained and potentially dangerous to cross at night.
The construction of its replacement – the Golden Jubilee Footbridges – was a complex process. The Northern and Bakerloo Underground lines run under the Thames at this point, but fears of finding unexploded Second World War bombs on the riverbed meant that some of the foundations had to be dug by hand. The three 225-ton concrete beams that support the footbridges were towed upriver by barges, attracting many spectators en route before they were dropped into place using cranes and divers.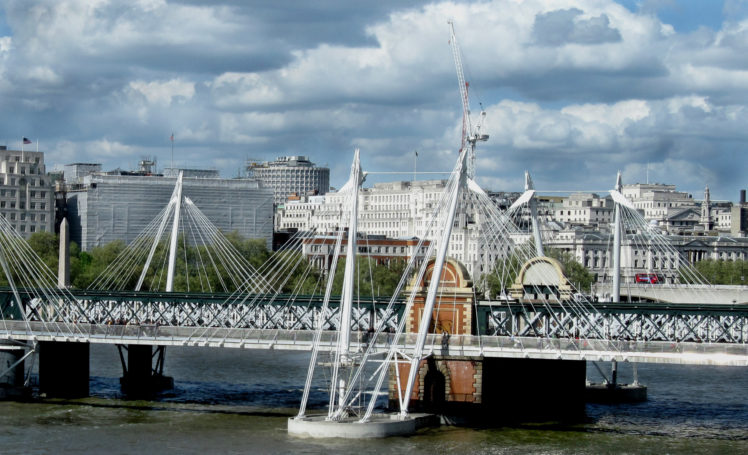 Artist's Vision
Leo Villareal's artwork for the Golden Jubilee Footbridges matches the sleek and modern style of the architecture with subtle, monochromatic lighting. The lighting scheme here acts as a fold to Millennium Bridge, the other more contemporary bridge within the scheme.