Golden Jubilee Footbridges
Winter 2020
Modes
Owner

Westminster City Council, Network Rail
Completed

2002
Designer

Lifschutz Davidson Sandilands
The 1864 Hungerford Bridge is a railway bridge designed by Sir John Hawkshaw, flanked by two footbridges opened in 2002. The footbridges were designed by Illuminated River's architects Lifschutz Davidson Sandilands with engineers WSP. They are based on a cable stay with supports linked to the rail bridge. The bridges were named in honour of the fiftieth anniversary of Queen Elizabeth II's accession.
Hungerford Bridge takes its name from the old Hungerford market, demolished to make way for Charing Cross Station.
The Golden Jubilee bridges are not the first bridges to be crossable by foot at this point of the river. Originally, walkways accompanied Hungerford Bridge but they divided opinion. The walkways were dark, often wet and had a strong smell of urine.
In 1941, the original Hungerford bridge was hit by a German Luftwaffe bomb but luckily the bomb did not explode. However, when the Golden Jubilee footbridges were built, construction was made tricky due to fears of finding more unexploded WWII bombs.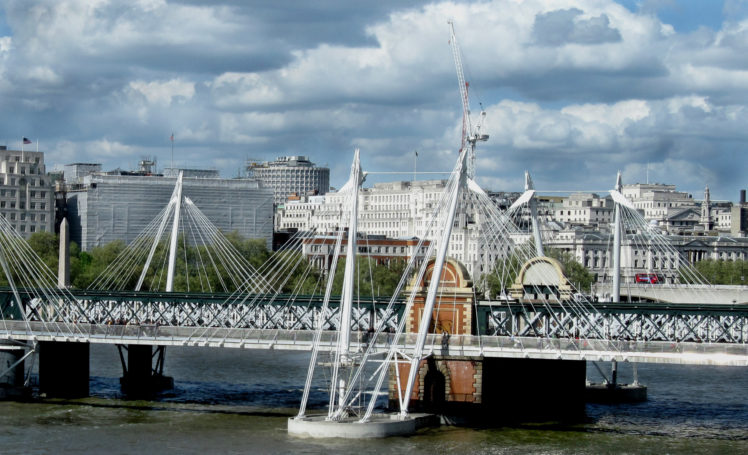 Artist's Vision
Leo Villareal's artwork for the Golden Jubilee Footbridges will match the sleek and modern style of the architecture with subtle, monochromatic lighting. The lighting scheme here acts as a fold to Millennium Bridge, the other more contemporary bridge within the scheme.