Lambeth Bridge
Winter 2020
Modes
Owner

Transport for London
Completed

1932
Designer

Sir Reginald Blomfield and G Topham Forrest
Heritage status

Grade II
Designed by architects Sir Reginald Blomfield and G Topham Forrest with engineer Sir George Humphreys, Lambeth Bridge opened in 1932. It is a five-span steel arch structure, adorned by decorative obelisks at either end. The colour scheme emphasises red, the colour of the leather benches in the House of Lords nearest the bridge's northern landing.
The obelisks at each end of the bridge appear to be topped with pineapples and it has been much debated what these fruits represent. Some believe they are actually pinecones, an ancient symbol of hospitality. Others believe they are Masonic emblems of enlightenment. A popular theory is that they are a reference to Lambeth's Tradescant family, in particular John Tradescant the Younger, a royal gardener to Charles I who first introduced the pineapple to England from Barbados.
Before Lambeth Bridge was constructed, a horseferry operated here for many years and was the only location in London where you could cross the Thames with a horse and cart. The horseferry wasn't always failsafe. Through the years at least one Archbishop, Oliver Cromwell and James I are all rumoured to have fallen in the water here.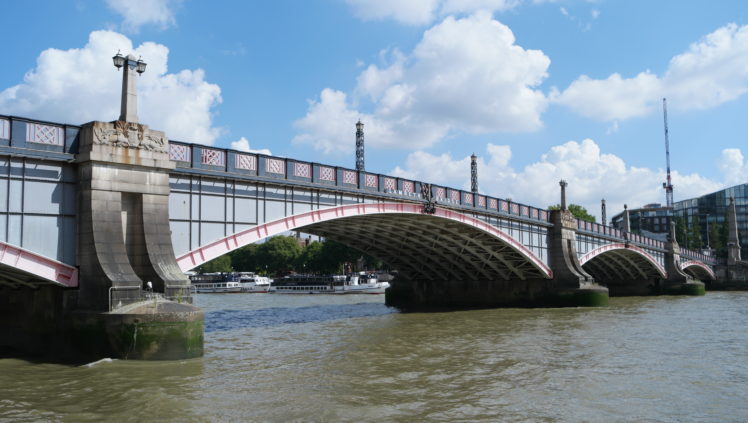 Artist's Vision
Leo Villareal's artwork will complement the red colouring of Vauxhall Bridge by using corresponding varied hues of warm light beneath the hand railings and the bridge's underside.