Modes
Owner

Bridge House Estates
Completed

1894
Designer

Horace Jones and Sir John Wolfe-Barry
Heritage status

Grade I
Tower Bridge was only opened in 1894, which comes as a surprise to many tourists and Londoners alike. No doubt, this is because in its relatively short history the bridge has become a quintessential image of London and the Victorian Era.
It is also interesting to learn that Queen Victoria was originally opposed to Tower Bridge. The Queen was concerned that it would compromise the security of the Tower of London, which was being used as an armoury at the time. Nonetheless, the bridge was originally painted in Queen Victoria's favourite colour: Chocolate Brown.
Tower Bridge was raised 6,160 times in its first year and today still opens 1,000 times a year. Despite the huge number of openings, there have been no major accidents. Although, on the 30th December 1952, a no. 78 double decker bus did have to make a jump for it when miscommunication led to the bridge opening before the bus had time to cross.
It is the only bridge in the project that is a registered visitor attraction welcoming over half a million visitors per year.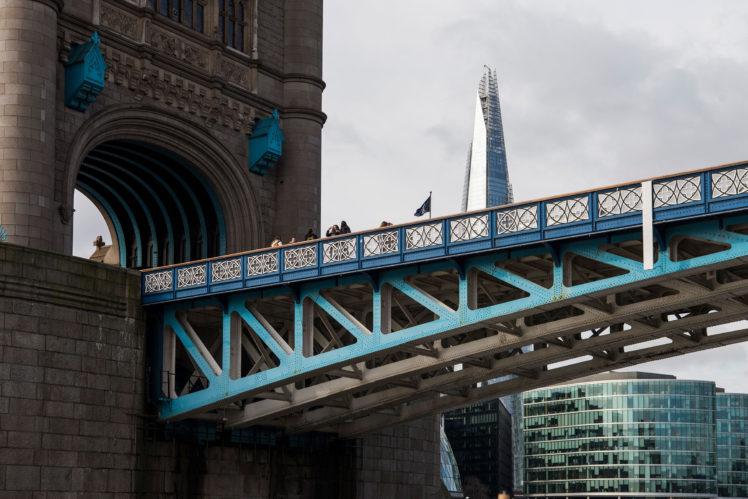 Artist's Vision
Tower Bridge is the only Grade I listed building in Illuminated River. At the bridge's north landing sits the Tower of London, a UNESCO World Heritage Site. The bridge served as the centrepiece for the 2012 Summer Olympics, when it was specially illuminated and adorned with a set of Olympic rings.
Villareal will wash the two stone towers, currently lit only on the East and West faces, with an all-enveloping warm white light that will enhance their architectural features, visually linking them with the Tower of London.