Modes
Owner

Network Rail
Completed

1967
Designer

Freeman Fox & Partners
Built in 1859, Grosvenor Bridge was the first railway bridge to cross the Thames in London. Spanning 54 metres, Grosvenor Railway bridge is also the widest bridge on the Thames – almost double the width of Westminster Bridge.
Grosvenor Bridge was built in three stages. The original five-arch wrought iron bridge was built by Sir John Fowler in 1859, and then widened to include an extra four tracks in 1866 by Sir Charles Fox. In 1967, the bridge was rebuilt by Freeman Fox and Partners with project engineer A.H. Cantrell. At this point, a tenth track was added and each track was encased in a separate steel span. This means that Grosvenor Bridge is in fact now ten separate but adjacent bridges. If you look underneath the bridge, you can clearly see each of the ten bridges.
In 1968, Grosvenor Bridge was said to be the busiest railway bridge in the world with 100 trains crossing per day. Today, it is still one of the world's busiest railway bridges carrying over 200,000 passengers per day.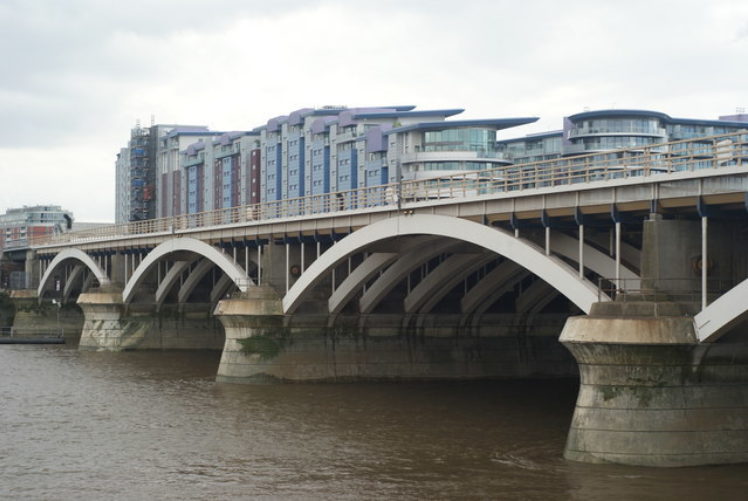 Artist's Vision
Leo Villareal's artwork for Grosvenor Railway Bridge will account for its surrounding townscape, as the proximity to residential areas requires a sensitive approach to the currently unlit bridge. Grosvenor will be in visual harmony with nearby Chelsea and Albert Bridges, as well as Tower Bridge, Millennium Bridge and the Golden Jubilee footbridges in its monochromatic lighting program of a quiet layering of white tones.