Blackfriars Bridge
Spring 2021
Modes
Owner

Bridge House Estates
Completed

1869
Designer

Joseph Cubitt
Heritage status

Grade II
The original Blackfriars Bridge opened in 1769 and was designed by Robert Mylne, a Scottish architect, then aged only 26. Mylne had studied architecture in Rome, and his design for the bridge was influenced by Piranesi, elegant and classical in style with nine semi-elliptical arches of Portland stone. With St Paul's Cathedral in the background, the bridge became the subject of a number of 18th century oil paintings, notably William Marlow's view of St Paul's from the South Bank, completed in the early 1770s.
Originally known as William Pitt Bridge (after the prime minister), it was changed to Blackfriars when Pitt fell out of favour. The name commemorates a 13th century Dominican monastery that had once stood nearby (Dominican monks were also known as black friars because of their dark cloaks)
The toll-booths that originally operated on the bridge were destroyed in the Gordon Riots of 1780. The bridge underwent extensive repairs between 1833 and 1840, however erosion from the polluted water flowing out of the nearby River Fleet and into the Thames had irreparably damaged the bridge masonry. Owned by the Bridge House Estates, they soon called for a new bridge of a more durable material.
Queen Victoria opened the current Blackfriars Road Bridge on 6 November 1869, almost exactly a century after the inauguration of its predecessor. Following the ceremony, the Queen travelled up to Farringdon Road where she opened the Holborn Viaduct.
Blackfriars Road Bridge was designed by Joseph Cubitt and consists of five elliptical wrought-iron arches (the first bridge to use this design) so as not to create cross-currents and disrupt river traffic. Massive granite piers topped with pulpits serve as a reminder of the ancient monastery from which the bridge took its name. The bridge is painted red, white and gold, with gold emblems fixed into the supports. Said to be the tidal turning point, it is decorated to the east (downstream) with images of seabirds and to the west (upstream) with fresh water birds. The bridge also marks the boundary of the historic City of London, with its southern landing guarded by a statue of a silver dragon.
The bridge was widened in 1910 to allow trams to cross, and to accommodate the high volume of traffic. Since May 2016, it has also carried the north-south Cycle Superhighway 6. Used by approximately 54,000 vehicles a day, at 105 feet, it is now the widest bridge over the Thames in London.
Robert Mylne's original design can still be seen on the decorative tiles in the bridge's southern pedestrian subway.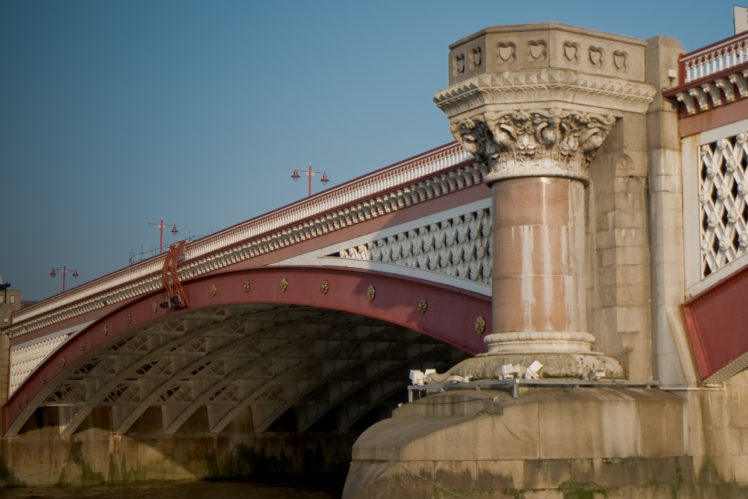 Artist's Vision
The Illuminated River artwork for Blackfriars Bridge uses a colour scheme that closely complements the red pillar supports that remain from the original Blackfriars Railway Bridge. Subtle scarlet and mauve hues gracefully reveal the underside of the bridge.