Blackfriars Bridge
Winter 2020
Modes
Owner

Bridge House Estates
Completed

1869
Designer

Joseph Cubitt
Heritage status

Grade II
Blackfriars Road Bridge was designed by Joseph Cubitt and consists of five wrought iron arches with abutments and balustrade of grey granite. Said to be the tidal turning point, it is decorated to the east (downstream) with images of seabirds and to the west (upstream) with fresh water birds. The bridge also marks the boundary of the historic City of London, with its southern landing guarded by a statue of a silver dragon.
It is thought that the unique pulpit-shaped pillars on the bridge, also designed by Cubitt, are a homage to the Dominican Monastery that formerly occupied this site and the black-cloak wearing Dominican monks who lived there.
The current Blackfriars Road Bridge was opened by Queen Victoria on 6 November 1869; although she did not have a huge amount of time to admire the bridge as she was jeered by an angry republican mob. Following the ceremony, the Queen immediately went up to Farringdon Road where she opened the Holborn Viaduct.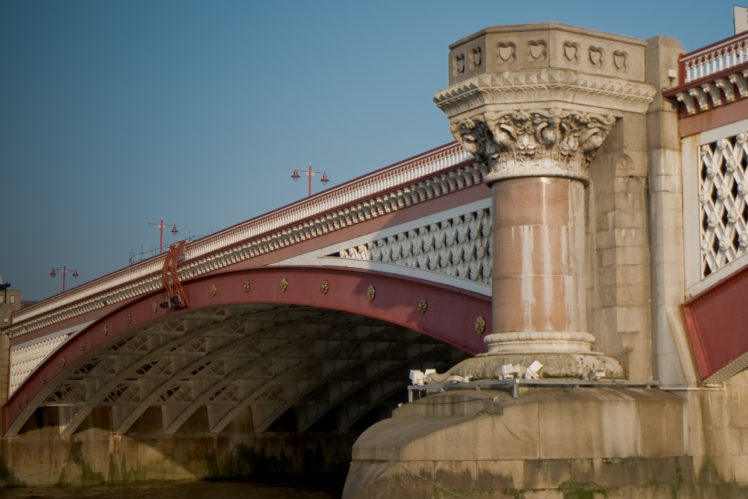 Artist's Vision
The Illuminated River artwork for Blackfriars Bridge will use a colour scheme that closely complements the adjacent Blackfriars Railway Bridge and the red pillar supports that remain from the original Blackfriars Railway Bridge.