London Bridge
Summer 2019
Modes
Owner

Bridge House Estates
Completed

1973
Designer

Lord Holford, Mott Hay & Anderson
There has been a bridge on this site almost as long as there has been a city of London, with successive bridges built by the Romans, William the Conqueror and King John. During the Tudor period around 600 buildings and bustling shops lined the bridge, some over six stories tall. The heads of traitors also used to be impaled on spikes here, including the severed heads of William Wallace, Thomas More and Thomas Cromwell.
When traffic on London Bridge became too crowded in 1722, a 'keep left' rule was instated that later became the pattern for all roads in the United Kingdom. By 1763, the houses and shops lining the bridge were removed to provide extra clearance for the increased traffic.
The last version of London Bridge (built in 1831 and designed by the architect John Rennie) was bought by McCulloch Oil Corporation of America, who then shipped the bridge across the Atlantic and re-erected it, piece-by-piece, over Lake Havasu in Arizona. The re-erection of Rennie's original bridge in Arizona cost almost the same as the construction of the current London Bridge.
One Sunday every autumn the traffic is replaced by sheep for the annual Sheep Drive by Freemen of the City of London, a practice that dates back to the 12th century.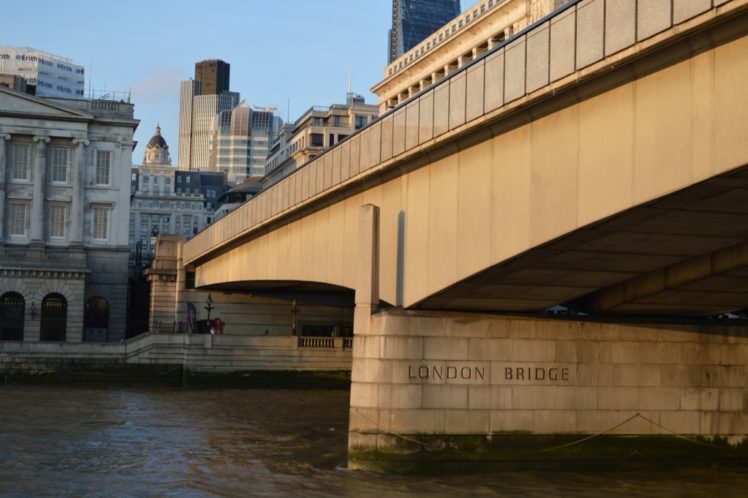 Artist's Vision
Villareal's artwork for London Bridge responds to the continuous stream of movement, colour, noise, and cultural activity in the surrounding area. The simple form and silhouette of the bridge is complemented by fields of broad and warm colour.