Southwark Bridge
Summer 2019
Modes
Owner

Bridge House Estates
Completed

1921
Designer

Sir Ernest George / Basil Mott
Heritage status

Grade II
Southwark Bridge was opened in 1921, replacing the earlier Queen Street Bridge that stood on the same site. Designed by architect Sir Ernest George and engineer Basil Mott, it consists of cast iron arches with abutments and balustrade of grey granite.
Unlike London and Blackfriars Bridges, Southwark does not have silver dragons to mark the city boundary on the southern bank of the Thames as its construction was privately financed.
Below the bridge on the South landing you can still see some old steps that were once used by the Thames Waterman as a landing dock to moor their boats and wait for customers. Before there were bridges to cross the Thames, these Waterman provided the main form of transport across the river.
Also below Southwark Bridge is a pedestrian tunnel with a wall mural illustrating scenes of the Thames frost fairs. In several winters between the 17th and early 19th centuries (known as 'the Little Ice Age'), the Thames froze over giving Londoners the opportunity to set up festivals with food stalls, shops, sporting events and even temporary pubs on ice. In the winter of 1536, King Henry VIII joined in the revelry, travelling from central London to Greenwich by sleigh.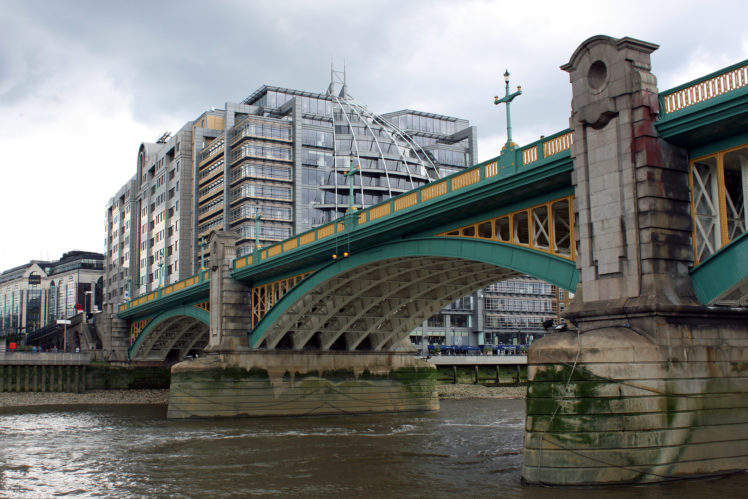 Artist's Vision
Drawing inspiration from the colour palettes of the Impressionist masters, the bridge's illumination continues, with slightly more saturation, the colours used on Cannon Street Bridge.