Southwark Bridge
Summer 2019
Modes
Owner

Bridge House Estates
Completed

1921
Designer

Sir Ernest George / Basil Mott
Heritage status

Grade II
The original Southwark Bridge (formerly known as Queen Street Bridge) designed by John Rennie was completed in 1819. Its official opening was held at midnight to publicise a striking innovation: lighting provided by 30 gas lamps. The bridge was the largest cast iron structure of its era, but it was underused and lacked the strength to carry heavy goods vehicles.
Bridge House Estates bought the structure from the failing Southwark Bridge Company in 1866 and eventually demolished it in 1913. The new bridge, designed by architect Sir Ernest George and engineer Basil Mott, opened in 1921 after significant construction delays during the First World War. Unlike London and Blackfriars Bridges, Southwark Bridge does not have silver dragons to mark the city boundary on the southern bank of the Thames, as its construction was privately financed.
The bridge consists of cast iron arches with abutments and balustrades of grey granite and is painted green and yellow, with sentry-box like structures on the turreted pier headings. The arches and piers are directly aligned with those on the west side of Blackfriars Bridge to ease the flow of the river, reducing the risk of crosscurrents.
Below the bridge on the south landing you can still see some old steps that were once used by the Thames watermen as a landing dock to moor their boats and wait for customers. Before there were many bridges to cross the Thames these watermen provided the main form of transport across the river.
On the north bank of Southwark Bridge runs a pedestrian tunnel with a wall mural that depicts scenes of the Thames frost fairs. In several winters between the 17th and early 19th centuries (known as 'the Little Ice Age'), the Thames froze over giving Londoners the opportunity to set up festivals with food stalls, shops, sporting events and even temporary pubs on ice. The piers of London Bridge were spaced so tightly together that they disrupted the flow of the river and allowed the Thames to freeze over.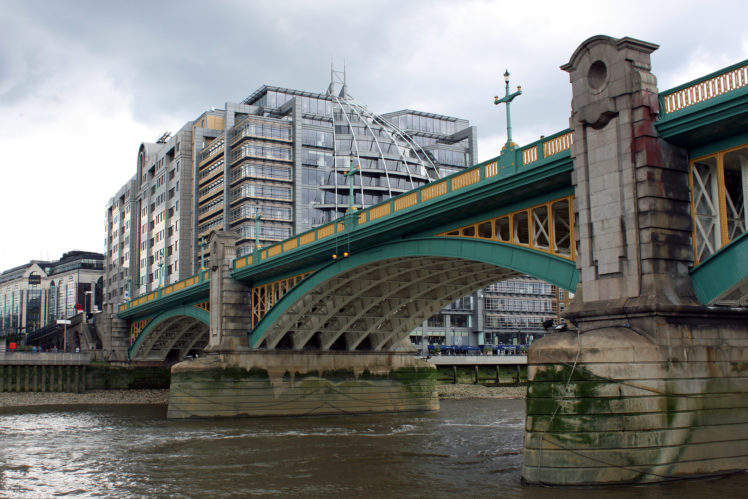 Artist's Vision
Drawing inspiration from the colour palettes of the Impressionist masters, the bridge's illumination continues, with slightly more saturation, the colours used on Cannon Street Bridge.