Cannon Street Railway Bridge
Summer 2019
Modes
Owner

Network Rail
Completed

1866
Designer

Sir John Hawkshaw
Nothing whatsoever to do with artillery, Cannon Street got its name as a shortening of the Middle English 'candelwrichstrete' which means 'street of candle makers,' first mentioned in the 12th century. The street sits within the Ward of Candlewick, one of 25 ancient subdivisions of the City of London.
Cannon Street Bridge, designed by Sir John Hawkshaw and originally opened in 1866, consists of five impressive spans supported by cast iron Doric pillars. It was officially named the Alexandra Bridge in honour of Princess Alexandra of Denmark, who married Edward, Prince of Wales, in 1863.
The original bridge incorporated two footpaths, one of which was a public toll-path and the other used exclusively by railway employees. The footpaths were removed in 1893, when the bridge was widened and strengthened by adding four extra cast-iron cylinders to the upstream side of each pier.
In the last 100 years the bridge has been rebuilt twice. The station was badly damaged during the Second World War and many of the original ornamental features were removed when British Rail undertook extensive renovations to the structure in 1982. However, two brick towers from the original bridge remain on the riverfront. These towers flank the bridge on the north side and conceal large tanks that contain enough water to power Cannon Street station's hydraulic lifts.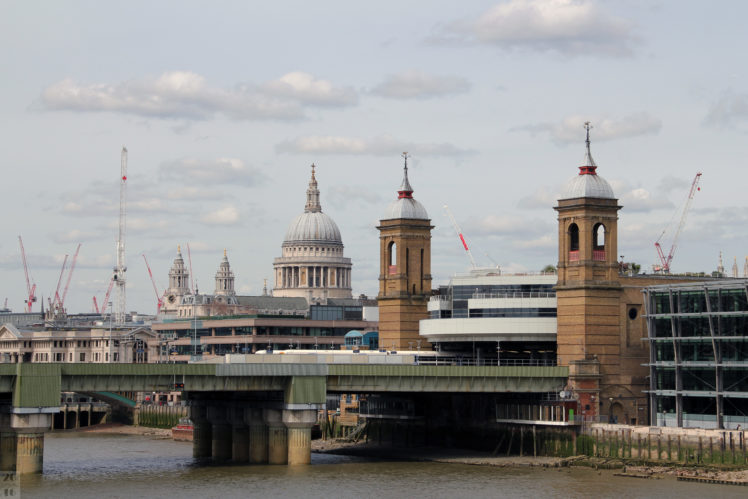 Artist's Vision
Cannon Street Bridge, despite being one of the oldest bridges on the Thames, had never been lit before. Villareal's artwork celebrates the bridge's oft- overlooked utilitarian character and monumental Doric columns, with subtle kinetic colours mirroring the motion of the trains passing above.