Westminster Bridge
Winter 2020
Modes
Owner

Transport for London
Completed

1862
Designer

Thomas Page
Heritage status

Grade II*
Opened in 1862 and designed by Thomas Page, Westminster Bridge is made of cast iron arches with abutments of grey granite and cast iron balustrade. It has gothic revival detailing by Charles Barry, the architect of the Palace of Westminster at the bridge's North landing. Westminster Bridge is painted verdant green in keeping with the leather seats in the House of Commons, the closest part of the Palace of Westminster to the bridge.
With its seven iron-ribbed elliptical spans, Westminster Bridge has the most arches of all the bridges crossing the Thames. It also features octagonal lanterns, grouped in threes, which complement the overall design.
The previous Westminster Bridge of 1750 was originally funded by a lottery. Or at least, was supposed to be. Although the funder originally hoped for £100,000 to be raised, in the end only £40,000 was raised through the lottery. The whole event led many to call Westminster the 'bridge of fools', a reference to the gamblers who sunk money into the lottery but also to the government at the time who had to put up the rest of the funding.
The Watermen, who ferried people across the Thames before there were many bridges, were particularly opposed to the plan for a new bridge. Eventually, they were offered £25,000 compensation for loss of business.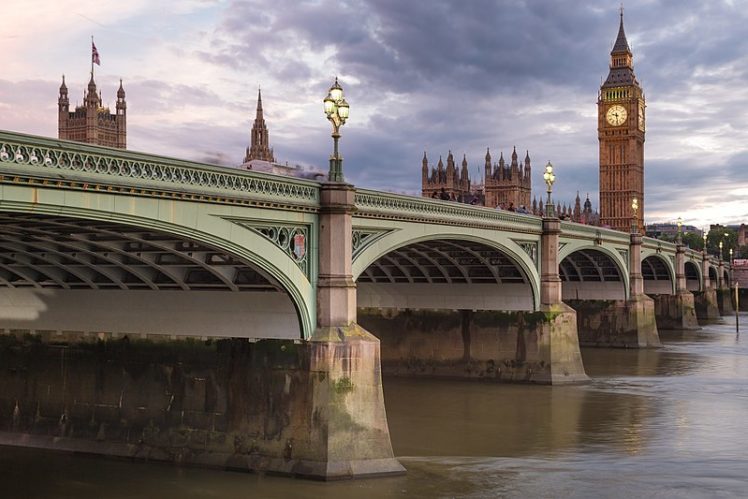 Artist's Vision
Westminster Bridge is part of the UNESCO World Heritage Site of the Palace of Westminster and is a Grade II listed structure. Leo Villareal's sequencing for Westminster Bridge is a subtle addition, honouring the bridge's historically significant design. Westminster Bridge will be lit underneath in soft green tones, complementing the bridge's characteristic colour and activating the latticework beneath.