Westminster Bridge
Spring 2021
Modes
Owner

Transport for London
Completed

1862
Designer

Thomas Page
Heritage status

Grade II*
The Old Westminster Bridge of 1750 designed by Swiss engineer Charles Labelye, was originally funded by a lottery. Or at least, it was supposed to be. Although the funder originally hoped to raise £100,000, in the end the lottery only generated £40,000. This debacle led novelist Henry Fielding to call Westminster the 'Bridge of Fools', a reference to the gamblers who sunk money into the state lottery but also to the government at the time who had to put up the rest of the funding.
Fearing the loss of ferry traffic and trade, Westminster Bridge met fierce opposition from the Church, the City and the watermen when it was first proposed. Nevertheless, the completed bridge – with fifteen semi-circular arches in Portland and Purbeck stone – was regarded as a triumph, being the first stone bridge to cross the Thames in 500 years. Many artists were inspired to paint the Old Westminster Bridge, among them Samuel Scott, William Marlow, Canaletto and Claude Monet. The bridge was illuminated at night by 32 oil lamps, which were replaced in 1814 by gas lamps, and subsequently by electric lighting in 1898.
In 1831 the derelict old London Bridge was demolished, which increased the flow of water causing scouring that undermined the foundations of the piers of Westminster Bridge. A Parliamentary Act was passed in 1853, transferring the bridge to the Commissioners of Public Works and allowing a new bridge to be built, with Thomas Page, the Commission's engineer, appointed to design it. Sir Charles Barry, the architect responsible for re-building the Palace of Westminster after a fire in 1834, was taken on as architectural consultant, so that the bridge would blend in with his new Houses of Parliament. The new bridge opened on Queen Victoria's 43rd birthday – 24 May 1862 – with a 25-gun salute to honour her 25 years on the throne.
At 827 feet long with seven elliptical cast-iron arches and abutments of grey granite, Westminster Bridge has the most arches of all the Thames bridges. The Gothic revival detailing on the cast-iron parapets and spandrels was made to Barry's designs. The bridge is painted verdant green in homage to the leather seats in the House of Commons, the closest part of the Palace of Westminster to the bridge. A portcullis, the cross of St George, a thistle, a shield and a rose – symbols of parliament and the United Kingdom – appear in the decorative ironwork. The bridge is lit by octagonal lanterns, grouped in threes.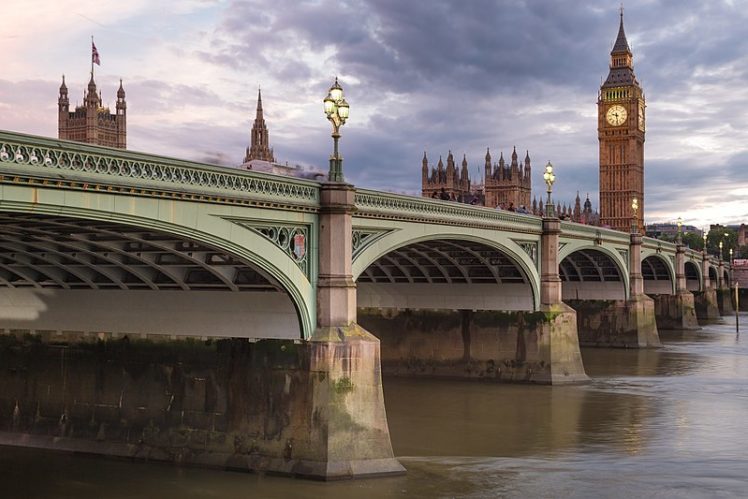 Artist's Vision
Westminster Bridge is part of the UNESCO World Heritage Site of the Palace of Westminster and is a Grade II listed structure. Leo Villareal's sequencing for Westminster Bridge is a subtle addition, honouring the bridge's historically significant design. Westminster Bridge is lit from underneath in soft green tones, complementing the bridge's characteristic colour and activating the latticework beneath.